Wednesday
Mandala Projects
Being Brave: Online Retreat and DVD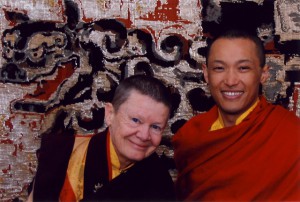 In the early fall, Tricycle Magazine proposed that Shambhala join with them in presenting an online program for people to come together and hear the teachings from Being Brave: Transforming Our World that features talks by Sakyong Mipham Rinpcohe and Ani Pema Chodron, with discussion led by Acharya Adam Lobel. These teachings come directly out of the multiple Sangha Retreats that were led throughout the summer.
Tricycle also proposed that they and Shambhala Media offer together a Being Brave: Transforming our World DVD. For December! A wonderful idea; brilliant actually. But could we do it? For early December?

It was a huge challenge to put together an online retreat and produce a DVD in such a short time-frame, but the editorial team of Emily Sell, Benoit Coté and Ethan Neville felt they were up to it. And the good news is, they were. It took much discussion, many decisions, revisions, determination, exertion and a few very late nights, but they did it. The end result is a visually beautiful DVD with over 8 hours of profound teachings on how to be brave and transform our world.
Don't miss it. The program started this week (talks are available for a week) and is free with a $25 Supporting Membership to Tricycle's Online Community. The DVD is available at an introductory offer of $35 with a Free Basic Membership to Tricycle's Online Community.
Read more about the online retreat by clicking here.
Buy the DVD Being Brave: Transforming Our World by clicking here.
Post Tags:
Being Brave
,
Pema Chodron
,
Sakyong Mipham
,
Tricycle
,
Video