Thursday
Dharma Teachings, Video, Audio, Photos
Gesar in Story and Song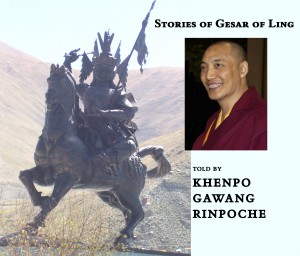 Inspired by the profound teachings of Gesar of Ling, the mythical, historical, holder of sacred buddhist teachings, Khenpo Gawang Rinpoche has offered the Shambhala Times readers an audio gift of song and story. This broadcast tells the story of Gesar going to India and the hell realm to try to rescue his mother. Rinpoche's motivation in offering the Gesar stories to the Shambhala Times:
"I am interested in Gesar. Recently I purchased a statue of peaceful Gesar to have in my shrine room. I first heard the stories of Gesar as a child so I know them well. I wanted to share them with the Shambhala sangha."

As Rinpoche says, "This story is about Gesar going to India and to the hell realm. Gesar's mother had died in Ling and so the Ling lamas and ministers sent messengers to India to tell Gesar of his mother's death. He got the message that his mother passed away. His mother was reborn in the hell realm, so he had to go to the hell realm to liberate his mother. He went there and liberated all the beings. Then he went back to Ling. They had caution about his coming back to Ling because of bringing the hell realm back with him, but Gesar explained that he liberated the beings."
Traditionally, when the story is told, it is not spoken but sung. Gesar has a special tune and Denma has a special tune, every main warrior has a tune. In this nearly 17-minute clip, Rinpoche sings for us the story of this journey. It is sung in Tibetan; click to play.

Gesar Goes to India and Hell Realm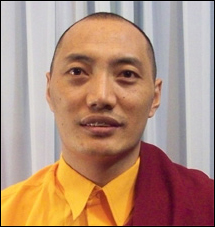 Khenpo Gawang Rinpoche has been a Tibetan Buddhist monk since he was 10. Wishing to study buddhism deeply, at 19, he moved to Southern India and entered the college at Namdroling Monastery. There he studied for 9 more years completing the equivalent of a Ph.D. In 2004, he was sent by His Holiness Penor Rinpoche, to America to assist his dear friend Sakyong Mipham Rinpoche. That year at Shambhala Mountain Center he met a student of buddhism who requested he consider moving to Memphis to establish a meditation center. After visiting several times, Khenpo Gawang Rinpoche moved to Memphis and created Pema Karpo Meditation Center.
Khenpo Gawang Rinpoche has written one book: The Sadhana of Shakyamuni Buddha, and is working on another to be published by Shambhala Publications. He teaches regularly in English and Tibetan, works with western translators translating Tibetan Buddhist texts and commentaries into English, and is active locally in creating bridges among different faiths and groups. Information on yearly programs and center activities can be found at: www.pemakarpo.org
Post Tags:
Audio
,
Gesar
,
Khenpo Gawang