Thursday
Video, Audio, Photos
What the Children Say: Everybody Has Basic Goodness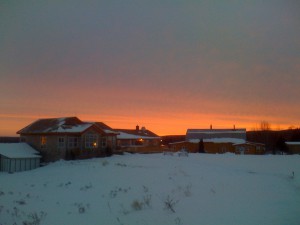 For the past two years, Dorje Denma Ling has offered a very special winter holiday family gathering, which begins December 26th and culminating in a New Year's Eve banquet and dance party. Each day begins and ends together with chants and meditation, with children from age 3 to 15 learning how to ring the gong, drum the drum, and offer incense for a daily lhasang. After morning chants, as the adults go off to their respective days of intensive shamatha and vajrayana practice (which fulfills group practice requirements), the children go to their own program activities, which are different each day. View the video below!
Highlights of this year's retreat included a beautiful "basic goodness" book that was handmade by the kids; a profound and lively discussion about Shambhala household practice; a traditional Maritime "kitchen party"; and a number of snowball sneak attacks, although the snow levels did not meet the kids' high expectations from last year.

This film was recorded and produced by Anna Weinstein.
All film used with permission.
Post Tags:
children and families
,
Dorje Denma Ling
,
Video