Monday
Mandala Projects
Getting IT: Shambhala Online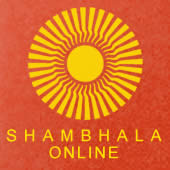 In our series on Shambhala IT, we are pleased to give you a window into the exciting world of Shambhala Online – your resource for online teachings!
Heather Scott heads up Shambhala Online with the help of Barbara Zielinski, new Head Moderator Laura Greer and a handful of dedicated volunteers including Jean Plough, Chris Morel, Marion Buckley and Debbie McGee. Shambhala Online supports practitioners around the world in completing core path programs and preparing for more advanced practices. It also allows everyone to connect for our community celebrations. Many of us have marveled at Heather's amazing calm during the last few full Mandala Roll Calls – as she reminds people what they have to do to appear for a moment on the internet broadcast.

You can see their blog at: shambhalaonline.shambhalatimes.org
For a recent taste of a Shambhala Online success, read Shambhala Online Course offered in Taipei 「香巴拉之道」
Visit Shambhala Online today to see what you can access, and enjoy!
Post Tags:
Shambhala IT