Tuesday
Mandala Projects
The Shambhala Network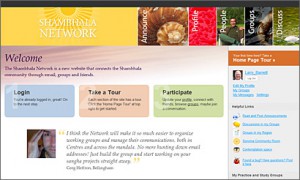 Migration of Sangha-Announce, Sangha-Talk and other Email lists to the Shambhala Network
by Larry Barnett
Director of Communications and Chair of the Communications and Technology Steering Committee
Over the last two years the Shambhala team that provides us with our online communications services began developing a new email system that would (among many things) migrate Sangha Announce, Sangha Talk and other email groups to the Shambhala Network. We know that many Shambhala members have already heard about this transition, so we are writing to help with the concerns you have already expressed, and to invite further dialogue. In this article, you will find information about why this transition is taking place, ways to get help, including Q&A, contact people, etc., and a link to a help article with technical support and more details.

Why this transition is taking place
This process began with a sangha-wide consultation which resulted in hundreds of people sending in their suggestions and preferences. Work then got underway and led to what is known as a "beta test" of the new model by over 3,500 of our members. In order to be as responsive as possible to people's needs, individualized messages were sent to people who, according to our records, most frequently use the current system to encourage them to be part of this testing process. Feedback and responses have been taken into account as far as possible, and the new network will continue to be improved and refined in the months and years ahead.
As the change-over has drawn near, some Shambhala members have expressed concerns about the new Network and the difficulty they have in using it for the first time. Many do not understand the reasons for changing over, and what benefits the new system will offer.
In recognition of these concerns and to enable our team to make further improvements to the new network, our team – the Communications and Technology Steering Committee is going to postpone the planned transition for at least another month.

Q: Why is this transition happening?
A: Our current system has served us for more than 10 years, which is a testament to those who created it. We are tremendously appreciative to the people and the functionality that we have benefited from for all this time. At the same time, the needs of our community have grown beyond what the current system can provide. As such, Shambhala IT Services set out to create a new system that could address these needs:
1) many members tell us they receive "too much email" – the Network allows you to adjust your email setting to get daily or weekly-digests ("summaries") of the messages in the Groups you subscribe to. You can scan digests quickly to see if there's anything you want to read.
2) working groups want a way to communicate easily – planning and other groups were bogged down by cc'ing people on emails, getting the wrong address, losing attachments, etc. The Shambhala Network allows working groups to collaborate with documents and images, and hold small discussions without involving the larger sangha.
3) people want to be able to create groups for smaller discussion topics – there were requests to be able to discuss the details of topics without involving everyone. For example, "Dharma and Sobriety" or "Sitting and Body Pain." Anyone can create a group for a discussion. Click to see how.
4) practice groups where people are joined automatically -the Shambhala Network automatically joins members to the practice groups they're authorized for. There's no need for a separate authorization process.

5) automatic coordination between systems – When you change your email in the Shambhala Database, it updates on the Network (unlike the old email lists, where you'd have to update your email address manually).

6) technology changes – in the world at large, technology has changed hugely since the announce lists were created years ago. While many enjoy the old system, we received many requests to update our communication technology in a way that will continue to work for the next generation of practitioners – the generation who will join in and continue to build our community. We neglect the needs of this younger community at the risk of alienating them. The IT Steering Committee felt this generational change was an important reason to develop modern communication technologies.

7) security concerns – the announce and talk email lists are hosted on the original server (the computer that holds the website's files). Shambhala IT is currently working to move sites away from this server, due to concerns about security.

8 ) ease of upgrading and modification – because the Shambhala Network is built on a common type of software, it's not difficult to find programmers to work on the site. This helps us avoid situations where the one programmer who can operate or modify a system goes on extended retreat or becomes unavailable. Also, the software the Network is built on is popular, "open source" (free) and includes upgrades without further cost into the future. This saves Shambhala IT Services money and time.

9) reducing the use of the old username/password – the Unified Login Project aimed to eliminate additional username/password combinations, as password confusion is the most common support request we receive. One of the last places where the old username/password was used was in adjusting one's announce and talk email list subscriptions, when updating one's email address, etc. The Shambhala Network uses the standard Shambhala Account for login. This means 95% of users will never have to use another username/password combination again! (Trouble logging in? See this article.)
HELP: Q&A, contact info
Recognizing this shift will not be easy for all members, we're committed to doing everything we can to help members become confident and comfortable with using the Shambhala Network. This help includes the creation of a "help page" formatted as questions and answers. This includes questions such as:
"Can I use the Shambhala Network exactly like the old email lists?"
"How do I send a message/announcement so that everyone will see it?"
"How can I get the messages from the Network in my email inbox?"
"Would it be possible to keep the old Sangha Announce and Sangha Talk lists for those of us who wish to continue using them, and offer the Network for those who wish to use that?"
"I have heard you have to be a member to participate in the Network."
Please visit the article HERE.
If you are someone with questions that this help page does not answer, please feel free to ask your own questions. You can do that by using the question feature on that page (under the title). Or, if you prefer, Greg Heffron, Head of IT Support, will do his best to personally respond to your questions.
I hope this is helpful to everyone. If you would like to write to me personally, you can do that as well. Or I could try to put you in touch with one of the many people who has made the transition in the course of the last year so that you could have a buddy to help you become familiar with the possibilities that our new network offers.
Post Tags:
Shambhala IT
,
Shambhala Network