Tuesday
Community Articles
Checking In From the Mukpo Institute @ Karme Choling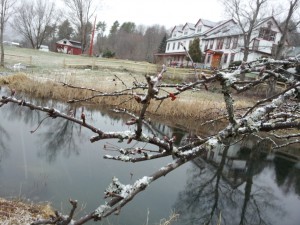 by Lawrence Jordan, Mukpo Institute student at Karme Choling
This note originally went out to the mailing list of my home Sangha. I would like to extend it out to the entire Shambhala community.
I'm sorry I haven't had the opportunity to write sooner, but my days have been jammed packed with meditation and study. Now that I have a moment, I wanted to check in to say hello and let you know what an excellent experience I'm having attending the Spring semester at the Mukpo Institute here at Karme Choling in beautiful, Northern Vermont.

The air up here is crisp and clean and after many hours of travel, I finally arrived at the center where our beloved Trungpa Rinpoche planted the first, sweet seeds of Tibetan dharma on North American soil back in 1974. From this auspicious beginning and as a testament to the teachings, these seeds have metamorphosed over the ensuing years into strong, grounded and deeply established roots.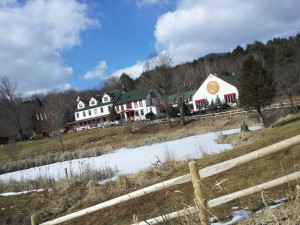 This land center is a sight to behold at this time of year. Situated on over 700 glorious acres of lush Vermont farmland, the bare trees, icy streams and frozen ponds tell you it's winter, but the warm midday sun and melting snow clearly trumpet that spring is rapidly approaching.
Red, white, yellow and green Tibetan prayer flags punctuate the long driveway and indicate the future location of the meticulously planned, "Stupa That Conquers All Directions." A little further up the road, the beautiful white and red trimmed main house stands with regal dignity. A restored farmhouse, this historic building is the centerpiece of Karme Choling. Perched just to the right is the immaculately appointed main shrine room, which for over 40 years, has brought insight and inspiration to those who have crossed through it's doors for practice and study.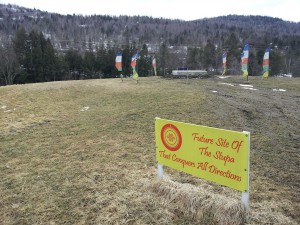 Each day here at Karme Choling is simultaneously filled with bustling activity but also a deep sense of serene calmness. Teachers, students and staff from around the globe work together in a spirit of friendliness and basic goodness to impart and absorb the ancient teachings of the Buddha as made comprehensible to westerners via the Shambhala tradition laid out by the Vidyadhara and carried on by his lineage heir Sakyong Mipham Rinpoche.
I have to say, Karme Choling is everything I expected it to be and more and I encourage each and every one of you to come and visit at your earliest possible convenience.
My heart is touched daily to think that in these difficult times, we Shambhalians have a dynamic, thriving community of like minded individuals working together to create an enlightened society. I am grateful and honored to have the opportunity to spend some time, not only to study, but also to participate in this brave, noble and courageous endeavor.
Come visit us here!
~~
For more information about Karme Choling, please click here.
For more information about the Mukpo Institute at Karme Choling, please click here.
Post Tags:
Karme Choling
,
Mukpo Institute