Saturday
Featured Stories
The Shambhala Practice of Dathun: A Month of Meditation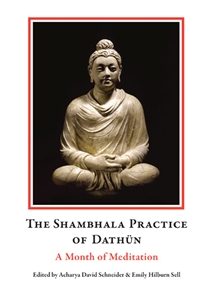 Introducing a new book about Dathun edited by Acharya David Schneider and Emily Hillburn Sell.
The heart of dathun is constant meditation. The heart of that, in turn, lies in making a friendly relationship with one's body, speech, and mind, and in bringing these steadily into synchronization. Participants in a dathun sit together in meditation — with breaks — from early morning until evening, for a month. Strictly speaking, they don't have much to do, especially by comparison with their daily lives in the workaday world.
Still, the schedule is full: periods of sitting and walking meditation alternate; meals are served and eaten formally, with ritual derived from Japanese Zen monasteries; an afternoon work period and/or kitchen stints keep the whole retreat running smoothly; regular study periods, lectures, discussion groups, and individual interviews provide intellectual and emotional support. Seen from outside, dathun appears to be a life of pacific retreat from the world. On the inside, participants feel vigorously engaged in spiritual exercise.

This takes various forms, but in dathun it means predominantly the seated practice of shamatha–vipashyana, "peaceful abiding insight." Ancient techniques for achieving this are simple, but not necessarily easy. Dathuns are also long. A month seems like a long time to devote to a retreat from which one emerges seemingly empty-handed: no new manuscript, no new canvas, no new album, theater piece, or screenplay is produced. One of the great teachers to the Shambhala community — Khenpo Tsultrim Gyamtso Rinpoche — said, "Insight is quick. Realization is slow." In this hyper-accelerated internet age, insights from Buddhism's highest teachings — everything from Ati to Zen — fly back and forth in chat-rooms, on websites, in blogs and emails. But the work of changing one's life, bringing it into accord with the insights so glibly batted back and forth — actually realizing them — remains slow. It progresses with a human pace grounded in breath, footstep, and hand-work, in the daily rhythms of morning, noon, and night, in the waxing and waning moon, in the seasonal, elemental shifts of spring, summer, autumn, and winter. Quick fixes and shortcuts do not help here. To do this work takes time. Dathun gives the sincere seeker time.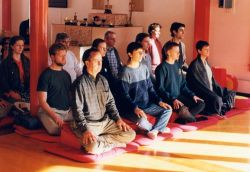 This book arose from the need to describe the view and practice of dathun for those thinking of going to such a program, as well as for practitioners already in one. This month-long group retreat is both unique to Shambhala, and characteristic of it. Ten to twelve dathuns take place each year, with attendance ranging from twenty-five to sixty participants. That's a lot of people doing a lot of hours of meditation. The idea came to Shambhala's President Richard Reoch that a collection of teachings from and about dathun — a short book on the essential elements of dathun — would be useful to the community. He had this idea of course in the middle of a dathun.
That dathün was being led by Sakyong Mipham Rinpoche, at Shambhala Mountain Center, in winter 2005–06. The Sakyong led another dathun there the following winter. Talks drawn from his teachings at these programs form one core of the book. The other core is teachings from Chogyam Trungpa Rinpoche, who introduced dathun to the West. Around these two central poles range several other contributions: from Venerable Thrangu Rinpoche; from Acharyas Ani Pema Chodron, Jeremy Hayward, and Loppon Lodro Dorje; and from Mrs. Alice Haspray, coordinator and cook for the very first public dathun.
For more information and to order your copy online, please visit Shambhala Media.
Post Tags:
book release
,
dathün
,
Shambhala Media