Tuesday
Featured Stories
The Supreme Thought
Bodhichitta and the Enlightened Society Vow
The Sakyong and Shambhala Media are proud to announce the publication of The Supreme Thought: Bodhichitta and the Enlightened Society Vow. Originally written as the second part of The Enlightened Society Treatise, this book shows us how our personal experience of basic goodness translates into a genuine expression of society.
In chapters such as "The Bodhisattva & the Warrior," "Shambhala & the Dzogchen Teachings," and "Prajna & Joy," the Sakyong mixes traditional Buddhist doctrine with the Shambhala dharma. These teachings compare and contrast the view, meditation, and conduct of the bodhisattva and the Shambhala warrior, clarifying the path of helping others.

Written as a public treatise, accessible to all, the text highlights the enlightened society vow as "a centerpiece of Shambhala vision." How can we awaken the supreme thought to benefit others in such a dark and confusing time? As the Sakyong states, "The warrior does not abandon society; rather, within society, the warrior illuminates the goodness with razorlike, confident, and warm simplicity."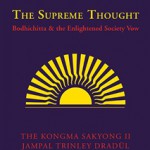 The Supreme Thought: Bodhichitta and the Enlightened Society Vow is currently being translated into Spanish, and we hope it will soon be released in many other languages. It will be studied in depth at the upcoming Enlightened Society Assemblies. However, this text is not restricted, and may be purchased by anyone at shambhalamedia.org.
Post Tags:
book release
,
Sakyong Mipham
,
Shambhala Media
,
Supreme Thought