Wednesday
Mandala Projects
Stock Your Shelves: 4 New Books

It's harvest season in the northern hemisphere not only for carrots and kale, but also for new books lining the shelves at our local bookstores. If you look closely, you might see a few by familiar authors! Here's a sneak preview of a few of these books, with links to learn more…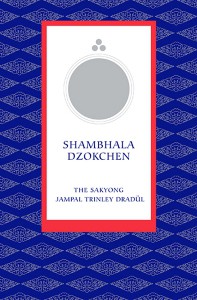 First and foremost, from Shambhala Media for those among you who are Shambhala Vajrayana practitioners, Sakyong Mipham Rinpoche has released a new collection of teachings called Shambhala Dzokchen. This book is compiled from talks given by the Sakyong during eight retreats for vajrayana students from 2006 to 2008, known as Garchens, "Great Gatherings." The teachings emphasize the deep connection between dzokchen and mahamudra and the Shambhala terma teachings received by his father, the Venerable Chogyam Trungpa Rinpoche. In presenting dzokchen, Sakyong Mipham Rinpoche draws on two texts from Mipham Jamyang Gyatso: The Torch That Dispells Darkness, and a text on the four yogas of Mahamudra. Also offered are practice instructions and guided meditations, including a mahamudra instruction composed by the Vidyadhara in Tibet, taken from the teachings gathered by his nephew, Karma Senge Rinpoche. This book is a must for all vajrayana students of Shambhala. To learn more and order your copy, visit Shambhala Media.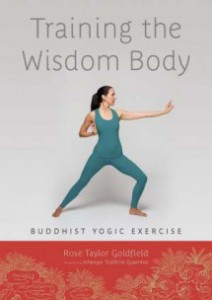 Those who have had an introduction to the practice of lujong will enjoy the new book from Shambhala Publications called Training the Wisdom Body: Buddhist Yogic Exercise by San Francisco-based Buddhist teacher Rose Taylor Goldfield. Providing both a thorough foundation for those new to the practice of lujong this book also helps people already engaged in any form of yogic exercise to deepen the potent fusion of meditation and physical movement. Included is an overview of the practice of lujong, and a presentation on the foundational principles of renunciation, compassion and the profound view of reality. Rose Taylor Goldfield also explains the three aspects of our whole being – body, mind and subtle body. As a bridge to our daily lives, she also gives teachings on how to work with fear, procrastination and anxiety through meditation and movement practices. What seems to be most helpful for those who have had access to the teachings of lujong before is the thorough, step-by-step guide for each movement. To learn more and order your copy, visit Shambhala Publications.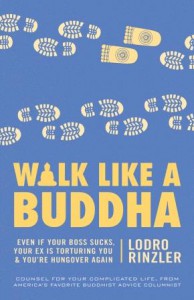 Walk Like A Buddha: Even if Your Boss Sucks, Your Ex Is Torturing You, and You're Hungover Again is the new book by Shambhala's own Lodro Rinzler. Published by Shambhala Publications, this second book by Lodro offers counsel for the modern day complicated life. This "nitty-gritty guide to life" for the spiritual-but-not-necessarily-religious uses Buddhist teachings to answer those burning questions and a host of others related to going out, relationships, work, and social action. Based on Lodro Rinzler's popular advice columns, Walk Like a Buddha offers wisdom that can be applied to just the sort of dilemmas that tend to arise for anyone making even a modest attempt to walk like a Buddha — that is, to live with honesty, wisdom, and compassion in the face of whatever life surprises you with. Find out more about this book and his touring schedule by clicking here. Click here for information on Lodro's new Institute for Compassionate Leadership. To learn more and order your copy of Walk Like a Buddha, visit Shambhala Publications.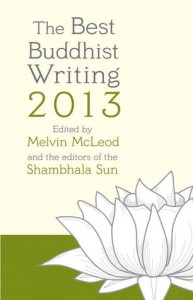 From Shambhala Sun and Shambhala Publications come this year's Best Buddhist Writing 2013. Chronicling this year's collection of the most notable and insightful Buddhist-inspired writing published in the last year, The Best Buddhist Writing 2013 includes authors such as Sakyong Mipham Rinpoche, Thich Nhat Hanh, Judy Lief, Tsoknyi Rinpoche, Pico Iyer, Pema Chodron and many more. Topics range from meditation practice to travel as contemplative practice, how to become a bodhisattva and what happens when the Buddha walks into a bar. Karen Maezen Miller expounds on the virtues of boredom and Phillip Moffitt writes on how to transform emotional chaos into confidence and clarity. Thich Nhat Hanh shares his vision for a more enlightened and sustainable society and Sakyong Mipham Rinpoche talks about how mind, breath, and energy work together in meditation to transform our lives. Edited by Melvin McLeod, Editor-in-chief of The Shambhala Sun and Buddhadharma, this compilation comes together around the central focus of realization. How do we walk the path of our lives? Read this book for a diverse array of answers. Visit Shambhala Publications to learn more and order your copy.
Post Tags:
book release
,
book review
,
Lodro Rinzler
,
Lujong
,
Sakyong Mipham
,
Shambhala Media
,
Shambhala Publications