Thursday
Featured Stories
What's New with the Shambhala Times?
Editor's Column
by Shambhala Times Editor Sarah Lipton
Have you noticed? The Shambhala Times is fairly exploding with news stories, articles about community events, interviews, book reviews, issues in the sangha and in our worlds beyond the cushion. I don't blame you if you can't keep up! There's so much happening! Or, more accurately, there's so much accounting for all that has ALREADY been happening.
I travel a lot, and am writing this while sitting at a cafe in Amsterdam (and editing it while sitting at another cafe in Lviv, Ukraine…), sheltering for a short time from the rainy weather, careening bicycles and relentless cobble stones. I've had the great good fortune to meet many Shambhala practitioners in Europe, and as I'm about to journey to Ukraine, will continue meeting more. What interests me in all this travel is how universal the message of basic goodness is. No matter how you get to work or what you do, no matter what you like for breakfast (fish or toast or scrambled eggs or oats), your experience of tender open heart is just like mine. Your smile is a reflection of the smile in my heart when I see the new spring greening on all the trees lining the canal.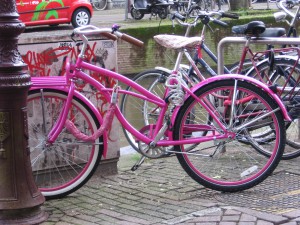 The Shambhala Times exists to provide a robust method of communication. What are we communicating? We are communicating YOUR voice, your perspectives, your experiences, and the news stories about the doings and goings-on at the center of our mandala (the Sakyong and Sakyong Wangmo for instance) – to the fringe (all of YOU!).
We recently had a wonderfully rich influx of YOUR voices upon the occasion of the 25th anniversary of the parinirvana of Chogyam Trungpa Rinpoche. Did you see the stories? Not only are they still there, waiting for you to read, but YOU are invited to continue to share your stories, remembrances and offerings.
Furthermore, we'd like to encourage you to get involved at your local center level with your blogs. The Shambhala Times can encompass our entire Shambhala mandala, but only if you get involved! Interested in learning more? Contact your local Center to see how you can contribute. We want to see your stories, photos, videos, and more. Leave comments here if you have questions, and we look forward to seeing you on the "web-waves"!
Now I must go dodge the bicycle traffic once more and navigate my way through the canals and dutch signs…it's dinnertime in Amsterdam. (Oh, and happy 12th anniversary to my sweetheart!!!!)
Post Tags:
Shambhala Times