Sunday
Featured Stories
Best of 2009
Did you know that the Shambhala Times posts a new story to the homepage almost every day?
Since the website launched ten months ago, we have published more than 600 articles, photo essays, news and views by Shambhalians around the world. In 2009, we received 244,500 visits with an average of 750 daily, plus hundreds of comments.
You are warmly welcome to join in: Submit a story, upload photos, and share your news!
There are many ways to stay tuned to the pulse of Shambhala. Subscribe to our news feed through RSS. Join us through Facebook or Twitter. Or become one of a growing number of Shambhalians who have made the Shambhala Times their home page.
Recently, Elephant Journal ranked the Shambhala Times among the top ten websites that walk the talk:
http://www.elephantjournal.com/2009/12/the-best-web-sites-of-2009/
Enjoy a sampling of our top articles from 2009…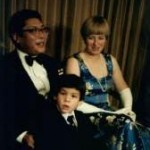 Raising our Children, Sharing our World
by Chogyam Trungpa Rinpoche
Partly because of your personal commitment to practice and partly because of other social commitments, all sorts of demands bounce back on you, so that you find your life completely full, absolutely full. We don't even have time to change a diaper, let alone change the oil in your car. But at the same time, those things are necessary. We have to make time for the most basic things in life…read more.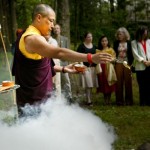 Equanimity in Uncertain Times
by Sakyong Mipham Rinpoche
As the economy seems to worsen and as we go forward, we need to have more equanimity altogether – not a passive equanimity, but more the notion of really being able to mature and understand the insidious level of hope and fear that we experience these days, and how our practices can actually bring about a level of strengthening and stabilization… read more.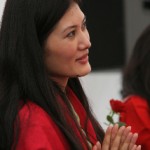 A Powerful Listener
by Khandro Tseyang
I grew up listening to stories of Yeshe Tsogyal from my grandmother and my mother, so since I was very young her life has inspired me. I would always try to be like her–the way she gained accomplishment, her selfless devotion to Guru Rinpoche, and the loving-kindness and compassion that she had for other living beings… read more.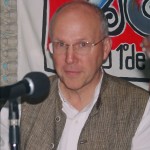 On Differing Views & Paths
Interview with Richard Reoch
If we can't create a social framework in which we understand that people will have different points of view, then all the notions of fearlessness and openheartedness–everything we're so proud of about the Shambhala inheritance–absolutely won't take root. We can't build an enlightened society on a basis of fear… read more.
Shambhala as a Terma Lineage
by Acharya Judith Simmer Brown
Understanding the terma tradition helps us to know who we are as Shambhalians. We uniquely hold the Shambhala terma, which has a special potency and role in the history of terma. They come from the warrior line of Gesar, the kingly warrior manifestation of Guru Rinpoche, and of course from the Rigdens. They are practices that present a social vision for how to develop enlightened society… read more.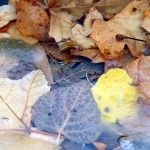 On Warriorship and the Economy
by Acharya Eric Spiegel
Whenever things change, it is helpful to engage the teachings on death, which offer a contemplation of change and impermanence in our tradition. Death means that the relative reference points that you are familiar with have changed. It could mean that "you", your body and the entity you think of as "myself" is no longer alive. Or it could mean that your marriage, your job, or the economic system is no longer functioning as it once did… read more.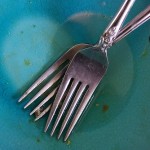 Celebrating Sophistication
by Sangyum Agnes Au
Some people seem to distrust the idea of sophistication and have a hard time reconciling it with a spiritual path. They see it as a samsaric trap–a superficial, attitudinal justification for materialism and elitism. Connecting it to its root word 'sophistry', they give examples of superficial, puffed up behaviors that seek to intimidate others with knowledge, expertise, or style. This is a most unfortunate misunderstanding… read more.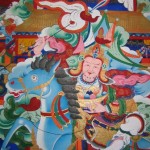 Riding the Powerful Steed of Compassion
by Laura Simms
Gesar lived with his mother until he was six years old. He was named Choru, and his radiance and sacred nature was kept hidden until it came time for him to become the king. When Gesar was 12 years old, there was to be a competition – a horse race — held in Ling to determine who would become king. The prize would be the palace, power over all of its treasures, and the hand of Princess Drukmo… read more.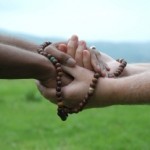 The Inheritance of Race in an Enlightened Diverse Society
by Gail Young
"It's okay Gale" my long time professional partner, an African American, said in 1992, "Sunday is the most segregated time in America. Relax. It's your white ethnic experience". Except for the Level One instructor, I hadn't seen another person of color in either the San Francisco or Berkeley Centers and inquiries about the role of diversity in an enlightened society elicited visible discomfort… read more.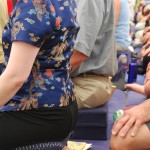 Sangha Retreat: A Rare and Powerful Experience
by Alexandra Milsom
"It will take ten years," said Ani Pema Chodron to a participant who described his difficulties with following the instructions for dropping the habitual storylines created by thoughts while he practiced. It didn't sound very reassuring at the time, but in retrospect, no one ever said the path to enlightenment would be easy, let alone the deceptively simple-sounding instructions of labeling thoughts and following the breath…read more.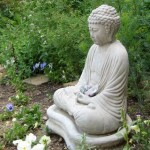 Creating Gardens of Compassion
by Olivia Kirby
Cultivating living things physically connects us with primordial drala joining heaven and earth literally. The Buddha's gesture was to actually touch the earth. And so must we. This is an important component of creating enlightened society and of establishing and maintaining real, meaningful connection with the living, magical world of dralas. We are opening up, breathing in and sharing the overflowing vibrancies of this world… read more.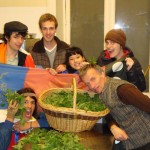 Once upon a time at Dechen Choling…
by Zane Edwards
People didn't stop talking about how wonderful it felt here. Yes it was crowded. Yes it was hot. Yes the porta-johns were full. But it was all completely magical… There were music jam sessions in the staff community space, card games, football in the village, dance parties, trips to the river and so on. People cared for each other, in such diverse ways… read more.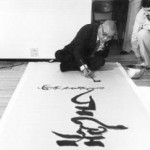 Rinpoche's Gauntlet
by Steven Saitzyk
While there were many difficult challenges we had to face in order to manifest this Dharma Art installation, the way Rinpoche picked up the gauntlet Sam had thrown down without any hesitation whatsoever gave us courage to meet them. What we had all perceived as a threat was truly inspirational to him. The show took place at the Los Angeles Institute for Contemporary Art and was an enormous success… read more.
Anyone in the Shambhala community can submit an article, upload photos, and share news. We want to hear from every part of the mandala – every culture, language and perspective.
Share your story with the mandala. It's easy! Visit: shambhalatimes.org/how-to-contribute/
Or contact one of our editors: [email protected]

Feel free to leave any feedback or article suggestions in the comments below…
Post Tags:
2009
,
best of
,
Shambhala Times