Wednesday
Sakyong and Family
H.E. Namkha Drimed Rinpoche Performs Gesar Puja for Shambhala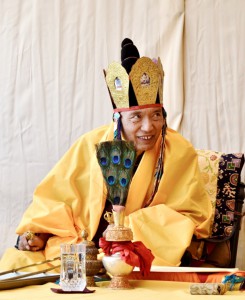 article by Sarah Sutherland
photos by Katie Weisberger
On a recent scorching day in Boulder, with smoke in the air from a wildfire only miles away from Shambhala Mountain Center, His Eminence Namkha Drimed Rinpoche performed an enriching Gesar puja for the protection, health and success of the entire Shambhala community.
Richard Reoch, president of Shambhala, and Christoph Schoenherr, executive director of Shambhala Europe, had supplicated His Eminence to perform this special puja while he was in Colorado to bestow the Magnetizing Gesar Abhisheka.
This powerful puja is part of the Gesar terma teachings that His Eminence is known and revered for. It is the same puja that the Tibet Government has requested His Eminence to perform and that others in the Tibetan community have relied on His Eminence to perform in the past.

Members of the Kalapa Council, Sakyong Ladrang, Kalapa Patrons and Shambhala leaders — many of whom were in Boulder attending the Scorpion Seal Assembly — were on hand at the Kalapa Court to participate. At the close of the puja, President Reoch and Joshua Silberstein, chief of staff of the Sakyong Ladrang, made offerings to His Eminence in appreciation for the blessings he bestowed on the Shambhala mandala.
"We are so fortunate that His Eminence is with us now to bless our community, particularly as fire threatens Shambhala Mountain Center and its staff is uprooted because of the evacuation," says Silberstein. "At the same time, the power of this puja is vast, with implications not only for immediate obstacles but for the future growth and success of Shambhala world wide."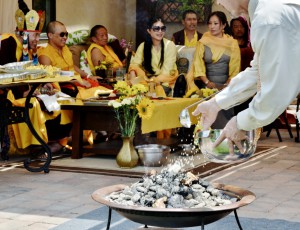 Post Tags:
Gesar puja
,
Namkha Drimed Rinpoche
,
Sakyong Mipham