Monday
Sakyong and Family
Vegetable Garden at the Kalapa Court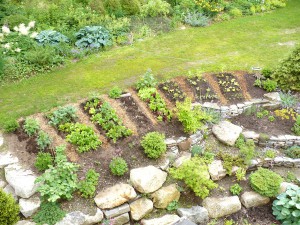 article by Marguerite Sands, Kalapa Court Vegetable Gardener
photo by Richard Peisinger
This year a vegetable and herb garden has been added to the landscape at the Kalapa Court in Halifax. Situated near the kitchen and service entrance, the site is separate from but connected to the overall landscaping. Under former owners this spot held a swimming pool, and the soil had become densely compressed by heavy equipment during renovations. To prepare the garden beds, machinery was brought in to dig deeply, and the exhausted soil was replaced with approximately 1.5 feet of garden soil and compost. Compost for top-dressing has been provided by Mark and Carrie Russell's farm in St Margaret's Bay.

Arranged in nine beds arrayed like the sun along the top edge of terraced landscaping, the garden encompasses a total area of approximately 300 square feet. Three of the beds are dedicated to growing flowers for cutting and ikebana. Including over 15 different culinary herbs, the bulk of the garden is currently focused on salad crops such as kale, chard, and a variety of other greens, as well as branching into areas such as pepper, tomato, peas, and miscellaneous other experiments.
Many of the initial seedlings came via the "No Guilt Garden Co-op" (also of St Margaret's Bay) under the bold leadership of Bob Cervelli. In order to magnetize drala energy further, methods used follow the lines of French Intensive/biodynamic gardening, as learned by Bob Howard under the late Alan Chadwick. For additional romance, the angelica archangelica plant guards the southern border.
The Sakyong and Sakyong Wangmo have enjoyed fresh foods from the garden this season, have had input into the next season's work, and have introduced Jetsun Drukmo to the garden as well. Successive sowing is currently focused on cooler-weather crops; time will tell what directions will be most appreciated and useful. It is a work-in-progress that we look forward to developing further.
Post Tags:
garden
,
Kalapa Court
,
Khandro Tseyang
,
Sakyong Mipham