Sunday
Arts and Poetry
Sky Dancer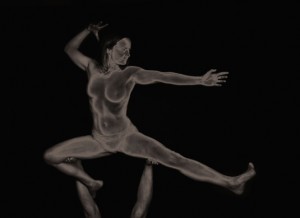 Introducing a new series of photographs called Sky Dancer
photos by Dana Marshall, Bussum, Netherlands
The power of the female body is that it is the link between heaven and earth.
Sky Dancer touches on embodied feminine energy. These images are a proclamation of strength and playfulness. They are inviting the sky of openness and spaciousness. An invitation to trust, let go and improvise.

The technique is solarized black and white photographs. Solarization is a phenomenon in photography in which the image recorded on a photographic print is wholly or partially reversed in tone. Dark areas appear light and light areas appear dark. This phenomenon occurs whenever a light is switched on while a film or print is being developed.
Metaphorically speaking, this outer technique of solarization connects to the inner aspect of transformation. We are all capable of turning on the light of awareness. This enables us to transform confusion into wisdom.
Sky Dancer points to the natural arising of a dance from the inside out.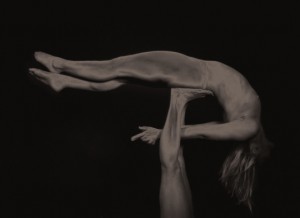 Dana first came in contact with the dharma through personal contact with meditation master Chogyam Trungpa Rinpoche. Dana was ten years old at the time and Rinpoche asked why she wanted to meditate? The answer was 'I don't'. It was six years later that she became interested in the practice of meditation and dove into a month long retreat at Shambhala Mountain Center in Colorado. Since that time she has been weaving together like two strands of DNA the Shambhala Buddhist path of Warriorship with the path of making art. Nine years ago the thread of Vinyasa and Yin yoga was added to this tapestry.
She was born and raised in New York City and moved to Holland in 1989. Brought up as a second generation Shambhala Buddhist she has been involved with the path of meditation for over thirty years. Dana is a visual artist and has been practicing fine art photography for as long as she has been practicing the dharma. To learn more about Dana's art you are welcome to visit the following website. www.dmarshall.nl
Post Tags:
art
,
photography