Wednesday
Featured Stories
New Ways to Listen to Our Shambhala Community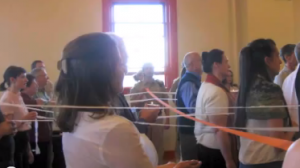 You may have recently seen a video posted on the Executive Director's blog, Making the Invisible Visible. The video was called Your Top Three Themes – from a survey on Governance in Shambhala. This short video reports the results of a survey conducted by Anna Weinstein and President Reoch a few months ago to assess our community's experience of Kalapa Governance so far. Watch as Anna explains a little bit about the community's experience in the video:


You can also read the full report by clicking here.
Anna is the Director of Centre and Group Support for Shambhala (she also has another role in Shambhala!). Among other things encompassed in the broad category of "support," she has built a new resource website, created new protocols for managing mandala-wide events like Shambhala Day (both centrally and to make things easier in local centers and groups), and spends much of each day counseling Shambhala leaders on all manner of local concerns. This is what she often looks like on the job:
In response to these survey results, she is now very excited to launch a little experiment for soliciting ideas: shambhala1.uservoice.com. This online tool is used by many organizations and companies to collect and prioritize ideas, by allowing users to contribute ideas, to vote on each others' ideas and refine them (and bump them higher up on the page by giving them more votes!), and to indicate which projects are already started, already completed, or not possible at this time. (It is kind of like Shambhala Reddit, for those of you familiar with Reddit.) As she says, "We're testing new ways to collect our community's input. If it works well, we can try using this format for other areas too!"
We asked the leadership for their input, and they gave it. We listened hard and shared the results back with everyone. And now we want to experiment with a new communications tool to gather ideas about how to work with the number one theme from the survey: communications. Where will we go from here? Go to shambhala1.uservoice.com and let's work toward figuring that out together.
Watch this short video to see how to use it:
Post Tags:
community survey
,
Shambhala Governance
,
videos