Wednesday
Featured Stories
Own Your Newspaper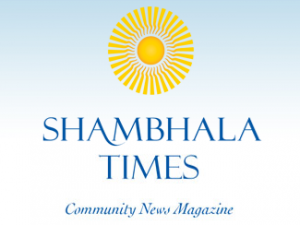 Editor's Column
by Sarah Lipton
Shambhala Times Editor
It's been a busy season for the Shambhala Times. We have many changes to share with you, and are very pleased to share the big picture of our vision going forward. Over the last number of months, we've been working hard to bring you news, stories, videos and photos from around the entire Shambhala mandala.

First, the News
We are delighted to share the news of the Shambhala Times' successful "peaceful takeover" (that's our little joke) of the Shambhala News Service. We couldn't have done it without the persistent technical support of Mr. Pawel Molenda, of Krakow, Poland. This merger brings the Shambhala News Service to the homepage of the Shambhala Times. Shambhala members will still receive a daily or weekly email with the most recent Shambhala News Service announcement through the Shambhala Network (you can choose which on the Shambhala Network).
The reason for this change is multi-fold.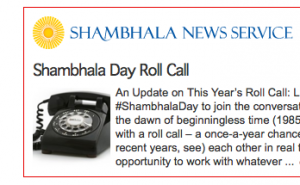 The first and foremost reason is to streamline the communications from the center of the mandala and more fully utilize this online resource. The second reason is to drive more readers to the Shambhala Times. The Shambhala Times is our community's press, our newspaper, our news forum, our gazette, and our community magazine. It's all of these things, and probably more, so that means all members of Shambhala have free access to read as many articles as they wish. This is your resource, so please enjoy!
You may have noticed there are some other new changes. Carolyn Mandelker, Executive Director of Shambhala is blogging! There is now a regular video stream on the homepage of the Shambhala Times, featuring videos from our community that have been selected for our Shambhala Community Videos Youtube channel. Please help us expand this offering by submitting your videos! To do so, email your video file directly to: [email protected]. Help us build this channel by not pre-posting your videos, and thanks!
New Columns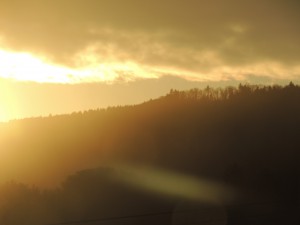 Our regular Aging in Enlightened Society column recently celebrated it's one year birthday. Way to go, Aging group! But there are also a number of new regular columns on the Shambhala Times. We now have a monthly column called Kitchen Wisdom, are gathering more Dharma Teachings on a regular basis, and have a very rich monthly Snapshots of Basic Goodness photo collection.
In Everyday Life is an example of a recently unrolled column and focuses on stories from community members about their life, livelihood and the intersection of practice. The Sakyong has asked us to take these profound teachings to the streets, so we've been interviewing people about how they do just that. Look for a number of these articles to roll out during the rest of this month.
Coming soon, (with your help), we aim to begin a few more columns: "In the News," "Good Practice" and "Court Culture."
Our Big Vision
We have a deep conviction that the Shambhala Times could not only become a sustainably run organization (through Advertising and other creative funding projects) but also a fully enriched organization of creative editors and departments, regional correspondents, reporters at live programs, and more. And yes, you guessed it, we aim to have lovely pins to demarcate who's who on the staff.
The Plans
We have plans for going forward toward this big dream. Soon we will be launching a new integration project of collaboration between the Shambhala Times, the Shambhala Network, Shambhala Online and Shambhala Media. Stay tuned for more information on how you can get involved with that.
We're also taking steps to lay out plans for how to go forward with the various columns and departments we'd like to create. But, we need your support, and we can't do it alone. We need more readers. We need more contributors. We need centers to get blogging. We need YOU, the membership of Shambhala, to OWN your newspaper. Make it the homepage on your web browser. Get the daily (or weekly) summary from the Shambhala Network. Start an RSS feed. Join our online community on Facebook and Twitter. Tell your friends.
Our Little Secret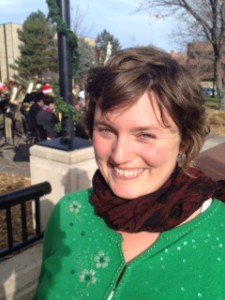 Now that you've heard our vision and our plans, we'll let you in on a little secret: there is no "we" at the Shambhala Times. Sure there are a few occasional (and wonderful!!!) volunteers, but for all practical purposes, "we" is actually just one person: Sarah Lipton. I'm all alone at the head of this ship, and the whole ocean is in front of me. As the Times goes forward, I'll be needing a crew: editors, reporters, videographers…all kinds of deck hands. And this is where YOU come in: we are looking for dedicated individuals to jump on board that lonely ship and assist by being column editors, copy editors, Social Media managers, Advertising managers, blogging support persons for Centers, and more. If you feel like signing on, please let me know. The waters might be a little choppy, but our vessel is strong!
Some version of a newspaper has existed in societies since time began. The first printed record of one is from around 59 BCE in ancient Rome. So jump on board, join your voice to the chorus, take delight in the activities of your society, be the Shambhala Times!
If you are inspired to make a financial contribution to the running of your newspaper, please click here.
If you are inspired to offer your services in any of the above-mentioned ways, please email Sarah at: [email protected]
Here's a funny little video put together by Anna Weinstein. Enjoy!
Post Tags:
editorial
,
news
,
Shambhala News Service
,
Shambhala Times
,
videos