Thursday
Arts and Poetry
Shambhala Music-Making: Second Movement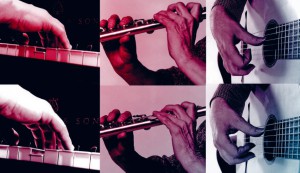 A Story in 2 Movements
by Madeline Bruser
David's Story
Sometimes a musician is ready for a major breakthrough. David came to my weeklong summer program at Karme Choling hoping to rediscover the joy he used to feel in playing the viola. Twenty years old and highly gifted, he studied at an extremely competitive conservatory and grew up with a father who encouraged him to practice by constantly pushing him to work hard, play fast, and excel. Although David appreciated his father's support, he longed to feel more independent of his influence.

At his first workshop with me, David revealed to the group that his father had become very ill during the last year and could no longer provide support as he used to, and that he might even die within a few years. David felt torn. As much as he wanted to feel free of his father's input, he also wanted desperately to make his father happy by practicing extremely hard. The conflict between these opposing desires had often paralyzed his inspiration, causing him to stop practicing for weeks at a time.
After listening to David's story, I asked him to stand solidly upright, holding his viola in one hand, and to notice how his body felt from head to toe. He took a few moments to scan his body and feel his own presence in this way. I then asked him to place his viola in position and to play only the first note of his piece, noticing how that single sound affected him. He drew the bow across the string for several seconds, extending the note until he felt the power of that sound. His face showed great concentration, and the sound soon became intensely resonant and expressive. He went on in this manner, slowly playing each successive note. Gradually, he picked up speed while visibly maintaining intense concentration, rootedness to the ground, and connectedness to the viola. His sound was rich and vibrant, and his playing was full of longing, joy, and beauty. When he finished, his face broke into a radiant smile, and I had to brush away tears before I could speak. I turned and saw others crying too. David's breakthrough had moved everyone in the room.
David found his creative power simply by opening to the energy within himself, bringing that energy into the playing of each note, and noticing how each sound affected him. Revealing his personal story and feelings in a friendly environment helped him relax. Taking time to sense the living quality of his solid, still, physical presence and to focus on the sensations within him enabled him to gather his deep emotional and visceral energy and to use it to play. His playing was thus informed by the fullness of his being. The effort David made to play in this powerful way can be described as peaceful effort. Rather than battling with himself to pick up his instrument and practice, or struggling to "get it right" or make it expressive, he simply tuned into his body, his sensations, and the sound he was making, and let the music flow from within him.
Transcending Stage Fright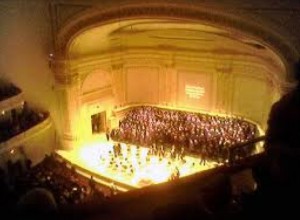 As successful as such teaching techniques had been, in 2006 I began longing for a way to give musicians some kind of vajrayana experience — to bring out the energy of devotion. Knowing that musicians' intense practicing is typically fueled by a strong devotion to their musical tradition, I came up with the idea of translating my experience of the morning lineage chants into musicians' terms. With the intention of helping them transcend stage fright, I developed a three-part contemplation, in which they reflect first on their musical lineage, then on their own goodness, and then on the goodness of their audience.
The results have been amazing. Highly nervous performers have discovered that underneath their self-consciousness they have something bigger and more powerful: their devotion to music and their desire to give something to their audience. This contemplation, which I now call the Fearless Performing Exercise, not only helps them go beyond their fear onstage, but also brings out their deepest communicative power. It raises their lungta.
Since I first taught this seven-minute exercise, my husband, Parlan McGaw, has been teaching it to actors, my friend Patton Hyman has taught it to lawyers, and I have even taught it to people in challenging business situations. It helped one board chairwoman rise above her fear of asking donors for money and give an impassioned pitch that elicited a million-dollar pledge. The exercise is easily adapted to fit many types of people. If you'd like to learn it in detail, it appears in a chapter I contributed to Barry Boyce's wonderful book, The Mindfulness Revolution, published last year by Shambhala.
A Lot of Help From My Friends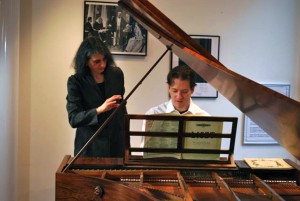 I couldn't have done this work alone. To publish a book, I had to learn to write. Three sangha writer friends helped with that, and I practiced writing every day for two or three years before it started to come naturally. To create videos for the Internet, I had to learn the tech for it. A 13-year-old friend of my daughter's helped with that, and it took about two years for me to get comfortable using camera, lights, and iMovie. To convey the benefits of my teaching to many musicians, I've had to learn marketing. A very special organization called Heart of Business continues to help me with that. And to have the lungta to keep going out there and trying new ways to reach people, I've needed a lot of emotional and practical support. My wonderful husband and the amazing board of directors of my non-profit organization, Golden Key Music Institute, help with that all the time. The entire board is made up of Shambhalians: Chairman Alan Schwartz, Secretary Sarah Farash, Treasurer Todd Anderson, Lance Brunner, Daniel Burdick, and Louis Yungling.
A Bigger Vision
I formed this non-profit 10 years ago with the ultimate aim of creating an accredited music conservatory where all the instruments are properly taught, so that musicians can fulfill their deepest expressive potential. In addition to making contact with like-minded teachers of other instruments, I've begun training teachers, and we now plan to offer mindfulness training in music schools, oriented toward helping students make music on a new level. (We invite you to donate.)
Together, with my board and extended team, we have been able to conduct focus groups with musicians to learn about their language and their needs. We've launched a free online magazine called Fearless Performing, which goes out every month to a growing list of subscribers. And after the devastating news two years ago that Karme Choling had dropped my summer program, we realized that their decision was a blessing in disguise, and we found a more practical and conventional place for the program—complete with music practice rooms and a concert hall — where it will happen this year for the first time. More familiar and less scary to many musicians than signing up for a week at our beloved Karme Choling, this program at a university music department is designed to lead them gently into a deeper connection with their own beloved lineage.
Participants of the summer program will include four teachers-in-training who have already progressed on the Shambhala path to different degrees and who will be able to pass on what they learn at the program to others in the future. The intention is to recognize and create a lineage of Shambhala music-making.
All of the program participants will still meditate two hours every day, but in a few short sessions on chairs, alternating with music workshops, instead of all in one stretch on cushions as we did in the Karme Choling Pavilion. We're doing what we can to meet them halfway, including offering them three free teaching calls before the summer to give them a taste of what they'll be learning. We've even renamed the program, from the "Meditation for Musicians Retreat" to "Mindfulness, Confidence, and Performance: A Transformative Program for Musicians." If you know any musicians, please spread the word!
It's extremely challenging to reach musicians with the promise we make of "breaking through to a new level of performance." They instinctively sense that they will have to give up something they cherish to make such a breakthrough — that they will have to let go of their habits, their familiar way of handling their passion for music, without yet understanding what might replace them. As a musician myself, I understand their fear. Yet I keep working to help them get past it—to free them of their habits and to guide them toward becoming the musicians they're meant to be—not only for their benefit, but for the benefit of their audiences.
I wish I could share with my fellow musicians everything I've been so incredibly fortunate to receive the Shambhala Sadhana, Werma, vajrayana transmission, all of it. But witnessing musicians find jewels within the context of their own experience has brought me a different kind of reward. It's shown me how far our teachings can reach. It's shown me that if we speak their language, we can help ordinary people connect to profound powers within themselves. And it's shown me that the words our teacher said to us are true: "You can do it, sweetheart."

~~
Read part one of this article here.
Visit Madeline Bruser's website at: artofpracticing.com
Post Tags:
dharma arts
,
music
,
piano
,
teaching