Saturday
Video, Audio, Photos
Karme Choling Staff do the Harlem Shake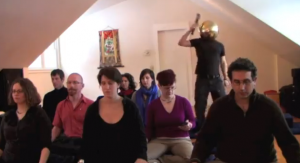 article by Kim Robinson and Aaron Delong
It all started when Evan Silverman sent me a g-chat to come up to his office. He had something for me to see. It was called the Harlem Shake, and it was sweeping the internet nation. We watched one of the compilation videos on Youtube and I realized immediately that, 'Oh yes, we must do this.' After gathering interested parties, having a number of impromptu meetings, and poring over the Harlem Shake oeuvre on-line, we finally decided to just film it already. As if by magic, people gathered with their props and a lot of excitement in the Shambhala Shrine Room. Then we did the Harlem Shake, a number of times. That night, Jesse Walter and I edited the footage and the very next day we got the thumbs up on having it posted. Needless to say, it went viral. At least at Karme Choling.

The Karme Choling cast of characters:
Golden helmet gonghead: Jesse Walter
Weird guy with mask & nunchucks: Pablo Coddou
Sleeping bag squirmer: Aaron DeLong
The Peaceful Sitter: Scott Robbins
Cartwheel princess: Elsa Keppel
Russian drummer: Kim Robinson
Furry hatted prancer: Adrienne Kehn
Horsey headbanger: Ashley Farrell
Double rockin dancers: Lauren Sanford & Cati Hellerer
Vacuum cleaning trashbag technician: John Allen
The random kasung: Evan Silverman
Rainbow launcher: Suzanne Trahey
Bucket headed spear shaker: Diego Aceituno

Now, the challenge is ON! Any other Centers or groups up for the challenge? Submit YOUR Harlem Shake videos to our Community Youtube Channel. Please email your video file directly to: [email protected] Help us build this channel by not pre-posting your videos, and thanks!
Post Tags:
Harlem Shake
,
Karme Choling
,
Video