Sunday
Community Articles
A Leader in Service, part two
COLUMN: In Everyday Life
One Woman's History of Service, part two
Read part one here

Interview with Madame* Jeanine Greenleaf


by Cara Thornley, Shambhala Times Regional Correspondent
* A form of address for a French-speaking woman literally meaning "my lady"

Question: Where was most of your household service experience?
I was never in Rinpoche's Colorado or Halifax households. In '76, I was asked to take care of his household at the 3-month seminary in Land O' Lakes, Wisconsin which included his cottage and his suite at the hotel where teachings and classes happened. I cleaned, cooked sometimes, whatever was needed. During work period, other students would also be coming to help.

Rinpoche would sometimes scare us, sneaking up behind us when we were cleaning and say, "BOO". He never complained about anything and he would always come to the kitchen when I had cooked a meal and say "thank you." And I would say, "No. Thank YOU, Rinpoche!" It was such a joy to serve him.
Q. After seminary you went back to Karme Choling (KCL)?
Yes. Until 1977 when Rinpoche asked me to be Lady Diana's attendant and secretary while she was learning dressage at the Spanish Riding School in Vienna. I joined her in an apartment. I took care of everything: her clothes, her meals, driving her back and forth to classes. My neck was stiff for months because driving was so stressful in Vienna. Everyone drove so fast and I felt responsible for Lady Diana.
I was driving her to the stable and then home at noon for lunch and then back to the stable. I was often there to watch. Those were gigantic horses! I mean I used to ride in the early days, but these horses scared me. One day one of the horses threw Lady Diana off and she went flying! Luckily she didn't break anything, no broken bones, nothing! But boy that horse was bucking.
The dressage teachers would tease me – they'd say "Jeanine, come here!" They would tell me that I should get on this or that horse. But I'd say, "No, no I have a duty here. I don't need a broken leg."
Q. Anything else stand out from your 'active duty' in Vienna?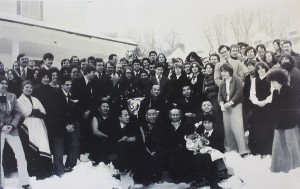 One day I was walking along and suddenly I see, across the street, a big poster of His Holiness the 16th Karmapa. I almost got run over because I didn't look before I crossed the street to read the poster. I found out where he was staying; and called to ask if Lady Diana could visit. So we went to see him.
Later we took him to the Spanish Riding School. I was driving. His Holiness the Karmapa sat next to me in the passenger seat. You know, a woman was not supposed to be sitting next to him. He kept saying, "Very good! Very good!" In the back seat with Lady Diana was His Eminence Jamgom Kontrul Rinpoche and another Lama. I was terrified by the traffic and the responsibility of such precious cargo. Those were some amazing times!
During my stay in Vienna, Rinpoche came to visit Lady Diana and he gave me an Italian sweater. I have kept it all these years. I would like to be in it for my sukhavati.
Q. How long were you in Vienna?
Three months. When Lady Diana wanted to have her son, Gesar, come to Vienna, Joanne Fordham, who was already taking care of Gesar, replaced me as the attendant for Lady Diana.
Then I came back to running Samadhi in the barn, and doing household service. I left KCL in August 1978 because I had done my 3-year term. (Usually back then staff wouldn't stay longer than three years. Rinpoche wanted people to get back in the world.) I went to Ann Arbor, Michigan with Michael Greenleaf because that's where he was going to school.
Q. Did you continue household service in Ann Arbor?
They would call me to staff seminary households but I just said, you know, I have a job. I just cannot go away for three months. I needed to work. I was working as a bookkeeper and helping at the Dharma Study Group we started.
After Michael finished school in '82, we moved to Chicago. Since Rinpoche visited Chicago many times, I was always involved with household service there.
Q. When did you return to KCL?
In February '86 Michael and I came back for Rinpoche's last KCL program, Realizing Enlightened Society Seminar in February 1986. Major Perks was attending Rinpoche who was already quite sick.
I worked in his household. One day I made a soup for the staff like my mother used to make, a delicious potato leek soup. And Major Perks came and said that Rinpoche didn't want anything to eat. I said, "This soup is very good!" Major Perks said, "No, no, no, he won't like anything!" I said, "Ask him! Tell him Jeanine made it!" Well, Rinpoche loved it. I remember Perks came twice. Rinpoche ate 2 bowls of that soup.
After that program, Michael and I stayed on for several months, staffing a dathun and doing a
Four Karmas
fire puja.
We left KCL in mid '86 and moved to Princeton, NJ, where we lived and worked. I also served as Head of Practice at the NYC Dharmadhatu. In June of 1993, John Rockwell and Judy Robison, co-directors of KCL, asked us to come back to KCL. Michael was Head of Finance and I managed Samadhi Cushions. It was still in the barn. It had no water. It was cold in the winter and it was home to raccoons. With Sakyong Mipham's advice, a new location for Samadhi was found in Barnet village.
Q. And you continued to work in household service for Sakyong Mipham when he came to KCL?
Yes. We set up his household in different homes in the Barnet area. In 1995, Michael and I bought a house in West Barnet and in 2003 we decided to renovate it so our house could serve as the permanent residence for Sakyong Mipham when he was at KCL. The renovation was finished in 2005.
Since his marriage, the Sakyong's family, and sometimes the Sakyong Wangmo's family also stay here. (Our property came with a cottage where we live when our home becomes the 'Court at KCL.')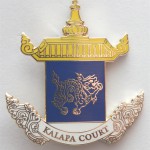 Q. You just received a pin from Sakyong Mipham recognizing your loyal household service to the Kalapa Court. Would you share how you feel about 40 plus years of service?
It is a great honor to have served the Sakyongs, the Sakyong Wangmos, and their families. Serving is a path and I have learned so much. I am thankful to them for their trust in me.
~~
Have stories that YOU want to share? Contact the editorial team at the Shambhala Times to share your story. Or, submit your memories in the comments field below. We would love to hear your stories!
Post Tags:
History of Shambhala
,
interview
,
Kalapa Court
,
Karme Choling
,
service
,
stories