Tuesday
Sakyong and Family
Sakyong's Harvest of Peace Address, 2013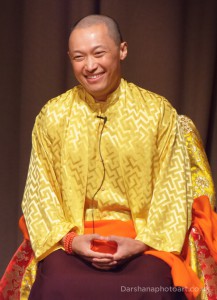 To watch the video of the Sakyong's Harvest of Peace address, please click here. To read the address, please scroll down, and enjoy.
by Sakyong Mipham Rinpoche
Greetings, everyone. A very warm and cheerful Harvest of Peace day! Today, I am addressing you from London, in the United Kingdom, where we have just concluded the Awake in the World Festival, which began as a way to honor the arrival of my father, the Dorje Dradul, the Venerable Chögyam Trungpa Rinpoche, over fifty years ago.
It was an incredibly warm, heartfelt, cheerful, and powerful event. In particular, it allowed us to reflect back in terms of the life of my father, the spreading of the buddhadharma, the establishment of the Shambhala teachings and lineage, and especially his contribution as a social visionary.
I feel that bringing the message of enlightened society is so prominent, especially on a day like this, where we are celebrating as a community. In particular, I feel like the most important aspect of this celebration is that the Shambhala lineage is flourishing and continuing in a very powerful way. This is due to all of you, your dedication, your support and love for this lineage of ours, which is at the heart of our lives.
This is the time of year when we have finished all of the summer teachings and programming. Many of us are returning to school or work. The fall is approaching – certainly in the northern hemisphere – and we are entering a period of transition. This day of the Harvest of Peace is celebrating that community feeling. I am particularly delighted that we can celebrate this theme of enlightened society in a very tangible way.
I've been presenting the notion of society as really being just two human beings communicating at a personal, familial, community level. And especially this year, this can be manifested simply as the three things that we are celebrating — food, conversation and meditation. And I certainly hope that you are able to participate today in these foundational elements of our enlightened society: the richness of nutrition, food, and communication as we connect with each other through conversation, and by strengthening our minds through the practice of meditation.
So it is wonderful that everybody has this opportunity, and especially I think in a community and family context. And as I've been encouraging you all, this lineage and tradition of ours is very much based upon how we can maintain our family — in a sense, our community – this way. So I encourage you to be with the family of warriors and practitioners, as well as your own personal families and friends and associates. And by engaging in that way, with the heart of basic goodness, we are actually creating enlightened society.
And so, these are some of the key elements that I would like to share with you. As we celebrate this Harvest of Peace, there is a quality of us actually living, manifesting, and creating this culture, which is essential.
So please enjoy this time we have, and reflect on the preciousness of what we have.
I also just want to send a special message to those of you who are in Boulder and in the Front Range, who have experienced the flooding. Certainly this has been on my mind. I have sent a message encouraging all of you to work together as a community and it's certain my thoughts and prayers and blessings are with all of you. I know it is a challenging, and also very intense, time for all of us in terms of these very very severe weather conditions—elemental conditions. Again, if we can relate to a sense of community and rebuilding, that will be very important—and certainly maintain your own strength and kindness through all of this. Again, I send my love and blessings to all of you. I would also like to, at this point, ask the Sakyong Wangmo to address you so she can send her wishes.
So, much love and good cheer in this particular time — and steadfastness. Be well and much love.
[Sakyong Wangmo] Hello from London. Hello from all of us. From Jetsun Drukmo. From Jetsun Yudra. We've been having a nice family time here. We've just had the wonderful Awake in the World Festival, which went extremely well. And I'm happy that I could be here for part of the events. After this, we will all be going to Cologne for the upcoming programs there.
I send all my love and my thoughts, especially to all of you in Boulder in the Front Range. We've been thinking of you and have been including all of you in daily practices.
I hope everyone is having a good Harvest of Peace day. [whispers to Jetsun Drukmo]
[Sakyong to Jetsun Drukmo, softly] Can you say something? Hello. [laughs]
[SW] Everyone is out there, having Harvest of Peace day, Jetsun.
[SMR] There's a lot of, think of all the kids [SMR waves] [Jetsun Drukmo hides face]
[SW][SW waves] There are a lot of children out there, also. At all of the centers. At all the Shambhala centers, there is a lot of children. [laughs] [Tibetan, speaking to the children]
[SMR laughs] [SMR] Just curious. [SMR and SW laugh]
[SW] Okay. We send our love and lots of tashi delek to all of you. And hope to see you all soon.
[SMR] Okay. [they wave to us] Be well, and enjoy.
[SW] Bye. [Encourages the children to say bye] [laughs] Tashi delek!
Post Tags:
Harvest of Peace
,
Sakyong Mipham
,
Sakyong Wangmo