Friday
Featured Stories
Discovering the Land of Great Bliss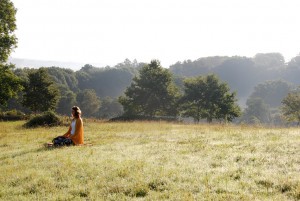 COLUMN: Center News & Updates
In keeping with the Sakyong's request that we "turn the flower outwards", Dechen Choling, Shambhala retreat center in France, has been increasing its efforts to be accessible to the community at its doorstep. Read more to find out how they've been doing that, and watch as French television picks up on the trend.
by Grace Wood, Head of Marketing, Dechen Choling
In the beginning, back in the 1990's, Dechen Choling was mainly a retreat center reserved for Shambhala practitioners. Many of them considered the place as a second home where they could deepen their practice and progress along the Shambhala path. While remaining the principal gathering location for the European Shambhala community, Dechen Choling has since grown out of its Buddhist roots and developed into to an open environment for mindfulness, well-being and social interaction.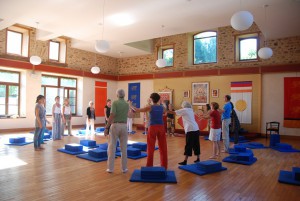 It all came from an authentic desire to turn the flower outwards, to truly reach out and open the doors to all who are looking to lead a meaningful live. This quest resonates deeply within the Shambhala vision. On a universal level, this quest also resonates within the human heart: people are increasingly searching for tools to enhance their understanding of themselves and find their dignity as a human being. They are seeking places to wind down, relax and get a break from their hectic lives.
The idea was to offer them a fresh, inspiring and wide-ranging selection of retreats to choose from. Traditional shamatha and mindfulness meditation retreats to start with, which then extended into retreats alternating meditation and a specific skill: stress reduction, non-violent communication, open heartedness, and more. Creative practice and physical alternatives also became available as a wide range of contemplative arts and disciplines were successfully introduced: photography, yoga, writing, and kyudo (Japanese archery) to name a few.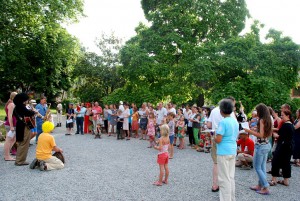 This summer, the center took another step further by celebrating its first French Summer Festival. The idea behind this event was to move away from the traditional meditation/contemplation retreat format and truly redefine Dechen Choling as a practice ground for enlightened society. The participants were involved in a week-long festival of creativity, expression, discovery and celebration.
Through this celebration, there was a true desire to live differently and move away from the habits generated by a consumer society, led by competition. Rabia, a first time participant at Dechen Choling, shared her feelings, saying, "As a beginner, I was concerned that diving directly into a meditation retreat might be too much for me. The festival worked out wonderfully for me, and I really enjoyed the creative activities, the mixture of generations, the social exchanges and just being together." The Summer Festival is also notable as the first major French speaking program to take place at Dechen Choling.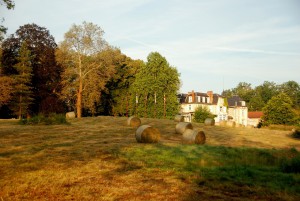 A very big effort has indeed been made in the past few years to welcome the french dralas. Although Dechen Choling has continued to promote the coming together of the many cultures of Europe, two-thirds of its public programs are now presented in French. This initiative has been a very important step in enabling Dechen Choling to play a more important role within the country and in attracting more and more French newcomers on a national level. At a regional level, Dechen Choling also hosts an increasingly growing local group which has a regular weekly and monthly meditation gathering. Open houses have also been introduced once or twice a year, with an increasing number of people coming to visit each year.
These efforts to reach out to the French public were rewarded during the summer, as the center was approached by two different French television networks, including France 3, one of the major television channels in France. This was also a wonderful way for Dechen Choling to be broadcasted to a larger audience. While this approach confirms people's interest for meditation, it also seems like a very encouraging and auspicious sign to continue carrying out the Sakyong's vision.
~~
Learn more about Dechen Choling, the Land of Great Bliss by clicking here.
Is your Center engaging more intentionally with the community out your front door? We want to know about it. Send us your story to: [email protected]
Post Tags:
Center News & Updates
,
Dechen Choling
,
France
,
turning the flower outwards