Saturday
Featured Stories
Harvest at Dechen Chöling
A seasonal contemplation on energy, connectedness and change
by Simon La Haye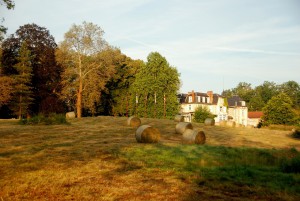 Today is a beautiful fall day. The trees are dancing in the crisp energy of the wind, leaves have already changed colors and are flying about, everything is clear and vivid. It is slightly nostalgic, it is the end of summer, yet everything is very energized.
At Dechen Chöling it is a time of harvesting after a busy summer. We take down the summer equipment, and we look at what worked and what needs to be improved. As we continue with programs there is still quite a bit of activity, but there is also this process of gathering and harvesting. Because we can take this time and things are relatively quiet, sometimes I fear that we are disconnected with reality. In many places fall can be the beginning of a new phase as everyone come back from the break of summer, and new projects start: school, new books, a new football season, the Nobel prizes. The world seems to start again after having taken its breath during the summer: conflicts and agression erupting in many places even if at the beginning there were good intentions, refugees desperately looking for a place where they can live with a minimum of dignity, cynicism that continues to exploit and destroy the earth.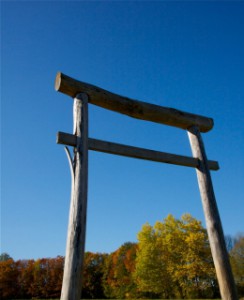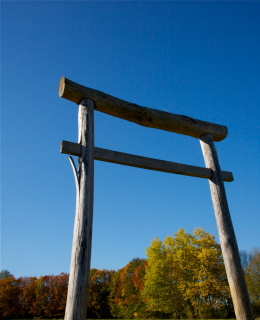 Even if we hear of basic goodness and are seduced by the idea, there is always an interrogation lurking. This interrogation is much more than just the contrast of this goodness with the suffering in the world. This sometimes is easier to understand -when one just thinks about survival it is more difficult to be generous and kind. It is actually heroic. There is also a more subtle and very personal side to it. For me, in the back of my mind, I still hope that meditation and the contemplation of how things are will solve my problems, will transform me into the person I would like to be. There is always an underlying hope that all my fear and embarrassment will be a thing of the past. But this question of basic goodness challenges me, makes me look at how I see myself. It is so hard to trust what and who we are, and then by extension others, society and the world.
This fall the Sakyong said that there is no small version of Shambhala. We are working on  transforming ourselves and creating enlightened society, or a good human society. They go together and are not different. If I trust myself I can also imagine peace. Otherwise it is just a theory.
Editors' Note: read on for a French-language version of this article.
C'est un beau jour d'octobre. Les arbres dansent au chant énergique du vent, les feuilles ont déjà changés de couleur et virevoltent allègrement dans la douce clarté de l'automne. Il y a cette nostalgie de l'été fraichement partie, mais aussi beaucoup d'énergie.
A Dechen Chöling c'est le temps de la récolte après une période très active. On démonte les installations estivales: les tentes, la cuisine et le reste. Nous regardons ce qui a bien fonctionné et ce qui doit être amélioré pour l'an prochain. Comme il y a toujours des stages nous ne chômons pas, mais nous prenons le temps de la réflection. Comme nous pouvons nous permettre ce moment et que l'activité est moins intense, j'ai parfois l'impression que nous vivons un peu à l'écart du monde. Pour beaucoup l'automne est le début d'une nouvelle phase après la pause de l'été – le début de l'année scolaire, la rentrée littéraire, la nouvelle saison de foot, les prix Nobel et tout le reste. Le monde semble repartir et continuer sur sa lancée: il y a les réfugiés qui cherchent simplement un endroit où ils puissent vivre avec dignité, il y a la tricherie qui fait que l'on respecte peu cette terre qui nous nourrit, et les bonnes intentions souvent ne servent qu'à envenimer les conflits et créer de nouvelles sources d'agression.
Même si nous sommes séduits par l'idée de bonté fondamentale, il y a toujours une interrogation. Bien sur la souffrance générale n'est pas étrangère à cette hésitation, mais elle est tout de même plus facile à comprendre – lorsque nous sommes inquiets pour notre propre survie il est difficile de prendre le temps pour être bon et généreux. En fait, arriver à le faire est héroïque.
Mais il y a aussi un doute plus subtil et intensément personnel. Toujours je garde l'espoir de régler mes problèmes, de devenir la personne que j'aimerais être, et j'espère que la méditation et toute ma recherche personnelle vont régler le problème une fois pour toute. Il y a toujours cet espoir sous-jacent que finalement mes peurs et mes insécurités deviendront choses du passé. Mais cette question de bonté primordiale me pousse à regarder comment je me vois moi-même. C'est aussi extrêmement courageux de faire confiance à ce que l'on est, et ainsi de se permettre d'avoir confiance aux autres, à la société, et à notre monde.
Récemment le Sakyong à dit qu'il n'y a pas de version simplifié de Shambhala, nous travaillons à la fois à nous améliorer et à créer une bonne société humaine. Ces deux axes vont de pair et ne sont pas différents. Si j'ai confiance en ce que je suis je peux aussi imaginer la paix. Autrement tout cela reste une jolie théorie.
Simon La Haye is a resident teacher at Dechen Chöling.
Post Tags:
Dechen Choling