Monday
Community Articles
Connecting with our Sense of Wealth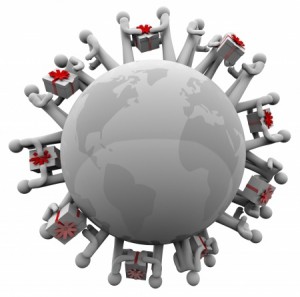 COLUMN: In Everyday Life
A Shambhala Perspective on Giving and Receiving
by Fern LaRocca, Mountain View, CA
People have a yearning to give and a yearning for connection (beyond Facebook). One of the early ways we learn to do this is by giving gifts. Over the years, however, the practice of giving a gift has lost a lot of its meaning. My mom used to say, "it's the thought that counts," meaning, just the act of getting something and presenting it is precious. I understand that, but as a little girl there was a self-consciousness that said, "Am I giving too much? Too little? Will they think I am cheap? Will they like it?" This monkey mind can paralyze anyone into a gift giving panic attack. Every year it would be a shopping mania of trying to find just the right gift.
As I grew up, the money spent on a gift wasn't as important, but rather the personal aspect of it became paramount. I thrived on finding things that people would connect with. Ann would really like this scarf since she likes the color green. Alan is always losing his golf balls so I will get him a nice set. That was when we knew each other well and what our interests were.
Then as distance and time separated many of my friends, our gift giving became more of a game of what is practical and useful in our lives. The latest wine opener was always appreciated as well as a new wallet to replace the old worn one. A game of what could so-and-so use right now became the gift of the year. Practicality ruled.
One year, I tried to break the cycle by saying "no gifts" on an invitation to a holiday party. I also let them know that we would have a container for toys to go to the Toys for Tots program. I figured that way people could still feel comfortable bringing something. I thought I was innovative. But the container went almost empty, next to a huge pile of hostess gifts. As I received guests at the door, many had a sheepish look on their faces as if to say, "My Mom taught me never to go to someone's house empty handed," and I took the pretty package as well as a hug. I think we all took our Mother's advice a little too literally.
I remember my teacher telling me the story of how he gave Suzuki Roshi this expensive rare vase that he knew he wanted. A year later he was shocked when he saw Suzuki Roshi give that vase away to another teacher. A perfect example of giving and letting go.
Now with kids gone, and houses filled, we have no need for stuff and we all appreciate just getting together and sharing food and conversation. A platter of appetizers or a bottle of wine is adequate as well as lots of hugs and kisses. Simplicity and ease rule our get togethers as our bodies slow. A high value is placed on the experiences we have, and the storytelling. We all appreciate these visits so much since they are more infrequent and we know it may be the last for any one of us.
The average household has more than $7,000 worth of unused stuff, according to research firm NPD group. Living in San Francisco at the time meant living in a small space with no storage for such things. Everything I had needed to be useful. My gifts were either re-gifted, donated or sold. But I was grateful for everything given to me and grateful that I was able to give to others. Giving and letting go became my teaching as springtime came and the garage got emptied of stuff. It was not always easy to let go but it did give me satisfaction that another will be using and enjoying the items.
New research shows that people all around the world derive more happiness from spending money on others than they do on themselves. Perhaps this accounts for us giving so much. In fact that may explain why poor individuals tend to give away a higher fraction of their income than members of the middle class do. In one study, researchers reported that Americans earning less than $20,000 a year gave a higher percentage of their income to charity than others earning up to $300,000 a year.
As we get and give in the next few months, reflecting and appreciating what we have is important to connecting with our sense of wealth. It is difficult in our society to take the time to reflect on the basic goodness that surrounds us and appreciate what we have. Too much focus is on meeting goals and obtaining more and more stuff. As I have gotten older, I realize how little I need and that is a very empowering feeling. I make a point after my daily meditation to think of at least one thing I am grateful for – like the ability to wiggle my toes.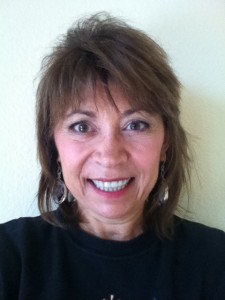 ~~
Fern LaRocca is a Certified Financial Planner™, Author, and publisher of Mindful Money Magazine. She is a Certified Coach working virtually with clients around the world and has given workshops at Apple Computer, Ford Aerospace, Sonoma Mountain Zen Center, and more. She received Jukai (lay ordination) in 1991 at Sonoma Mountain Zen Center, and is a member of the Silicon Valley Shambhala Center. She can be reached at [email protected].
Post Tags:
gift ideas
,
In Everyday Life
,
wealth