Tuesday
Shambhala News Service
Shambhala Releases Free Meditation App on iTunes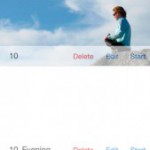 Shambhala's first meditation app is available now on the iTunes store. The Shambhala Meditation App is designed to provide a clear way for people to learn more about the Shambhala community, encourage meditation, and to find local centers.
Update: click here to download the app!
To see an introductory video and read about the history of the app, its functionality and design, and its future development, please visit the Shambhala Times.
The Shambhala Meditation App has three main functions:
Timer
The core functionality of the app is a timer built for meditators which allows users to construct meditation sessions by combining different practices.
Learn and Connect
The app includes a set of audio teachings from the Sakyong, as well as links to the Shambhala Times, the Shambhala Community YouTube Channel, and recommendations for further reading.
Map
Finally the app provides a map to every Shambhala Center and Group in the world. It identifies your nearest Shambhala Center, points you to its website, and provides directions.
To help the future development of this app, please downloaded the app, tell your friends, and email shambhalaapp@gmail.com with suggestions to improve the product.
Post Tags:
Shambhala News Service