Thursday
Arts and Poetry
Chaos, Bewilderment and Being Pissed-off While Viewing Art
Today is Shambhala Art Day, which has been designated by Sakyong Mipham Rinpoche to occur on the spring equinox. It is a day when the entire Shambhala community and friends are invited to celebrate art forms and disciplines that embody the Dharma Art teachings of Chogyam Trungpa Rinpoche. These teachings encourage the creation and manifestation of art that wakes up the viewer as well as its maker to a sense of unconditional sacredness within the phenomenal world.
"A work of art is created because there is basic sacredness, independent of the artist's particular religious faith or trust. Sacredness from that point of view is the discovery of goodness, which is independent of personal, social, or physical restrictions."
~ Chogyam Trungpa Rinpoche. pg. 130, in True Perception

article by Steven Saitzyk
I don't like chaos, being bewildered, or pissed-off. In the Shambhala tradition, chaos is often regarded as good news; bewilderment, a good sign. Being pissed-off is important, which I learned during a conversation with Chogyam Trungpa Rinpoche. We were discussing iconography and the nature of wrathful and peaceful deities, and he said something that stunned me, "The peaceful deities should piss you off. Their pristine purity is irritating to ego." While I knew the wrathful deities were bewildering and evoked a sense of chaos, I believed the peaceful deities would be a blissful refuge from all that. Whatever comfort zone I had shrank.
Knowing that chaos, bewilderment and irritation have their positive qualities and not just negative ones helps me to not panic or immediately assume something is wrong with my experience. Avoiding them has not been an option, not only because they are part of life, but also because I teach the integration of meditation with the creative and viewing processes where chaos, bewilderment and irritation are ever-present.
I find that chaos asserts itself the instant I start something new. I have learned that if I don't retreat, it becomes an opportunity to surrender to my habitual patterns and be in that space, waiting see what arises and takes shape. My first reaction to chaos is often bewilderment. I am confronted with an empty space that I need to fill with something, anything. Yet, if I manage to hang out in that space and not immediately fill it, I experience the sensation of being very present, open and energized. I simply don't know what is going happen, or what I will do next.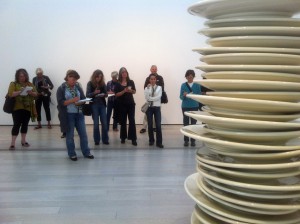 Bewilderment is not a problem to be solved but a space to be in. What I learned from my experience about being pissed-off is that it is not solely my ego trying to reassert the control it has lost; it is also a response to the clarity, precision and truth of seeing things as they are. This was reinforced by another important person in my life using the term "pissed-off" while viewing art. He is an internationally known artist that I respect, and once while looking at some art together he said, "I always know when I see an important new work: It pisses me off." I understood that to mean there was some sharpness, some truth about it that cut through to the very core of his being.
The irritation I experience in such situations is in part a result of the separation between me and my experience. I have found that chasing after the experience does not resolve that split. When I can fully experience the irritation, it relaxes and dissolves into the singular experience of clarity.
Whether we manifest our creativity by making art or not, we can all engage in contemplative viewing of art. By contemplative "viewing," I mean using as many of our senses as possible with whatever art form is being offered. Contemplative viewing is an opportunity to practice engaging chaos, bewilderment and irritation in a mindful and experiential way and discover how they can change into vision, sanity and appreciation. Contemplative viewing stretches our boundaries, expands our comfort zone and changes how we perceive and appreciate our world. However, before that can happen, we begin with chaos. For example, the mere thought of going to a museum and viewing an unfamiliar work, especially if it is particularly challenging and off-putting, can bring about a sense of chaos. In addition, we are suddenly asked, "What do you think about it?" That may bring about a major moment of bewilderment.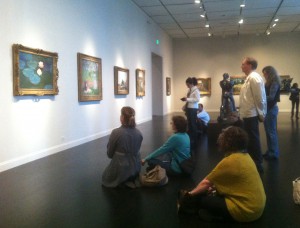 In such scenarios, in order to minimize any sense of chaos, we tend to prepare for it by arming ourselves with information about the art, the artist and its history, as well as any reviews we can find. I used to do that. I wanted to see what I was supposed to see and say what I was supposed to say when questions arose. This process is, of course, the opposite of contemplative viewing. In truth, it is questionable if there was much of any viewing going on at all. I came to realize that I was projecting thoughts and feelings onto the art and then viewing my projections as the art. When I was armed with information in this way, I filtered out any direct experience of the art in favor of my own prejudgments and the thoughts and opinions of others.
Contemplative viewing does not begin with looking at a label or title of a work or whether you know anything about the work or the artist. You must put that aside as best you can. We know we can do this at least briefly because we do this during meditation. Thoughts arise, and we don't have to chase them. We can return to our breath and senses, and the thoughts will dissolve into space all by themselves. Therefore, we can take what we have learned in meditation, and for a few moments rest our senses on the artwork, which becomes the object of our meditation rather than our breath.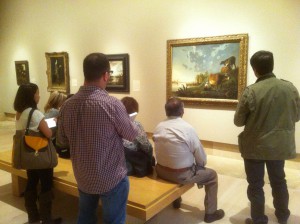 This provides a space for us to have our own experience, as unfiltered, unmanipulated and direct as possible in the environment in which we find ourselves. Not only does this process give rise to an experience based on our sense perceptions, but the inevitable thoughts that arise are connected to that experience, rather than existing as thoughts about thoughts. We call those thoughts that come out of the immediacy of direct experience first thoughts, and when they are shared, they often vividly describe the artwork. With this slow viewing, chaos and bewilderment serve us by providing the space, the openness and the awareness for our own experience to arise and be recognized and appreciated.
At this point, reading the label and introducing what is known about the artist, the art, the history of the time it was created and so on enriches and enlarges our view rather than filters it. If we are share our viewing process with others, which I strongly recommend, the very act of articulating it, as well as the act of listening to others, creates new experiences. Just as in the practice of meditation where with each out breath we can let go of our thought stream and come back to a fresh moment with fresh eyes and discover new perceptions and realizations, we can also return to view even familiar works of art over and over again with fresh eyes and make new discoveries to appreciate and share.
You may view a July 10, 2013 talk on "How to View Art" given by Steven Saitzyk here.
~~
Steven Saitzyk is the International Director of Shambhala Art, a non-profit arts education program designed to integrate meditation into the creative process. He is also a founder of the Shambhala Art Program. Currently, he works as an Adjunct Professor of Humanities and Sciences at Art Center College of Design in Pasadena, California. He also teaches at the California Institute for the Arts. He is an exhibiting painter and published author. His soon-to-be-released second book is titled "Place Your Thoughts Here: Meditation for the Creative Mind." He began his studies of Dharma Art and Iconography with Chögyam Trungpa Rinpoche in 1974 and since has taught internationally. See: www.shambhalaart.org or www.stevensaitzyk.com for more info. E-mail: [email protected] or [email protected].
Post Tags:
arts
,
Shambhala Art
,
Shambhala Art Day
,
spring equinox