Saturday
Community Articles
Mindfulness Isn't a Trend, It's a Movement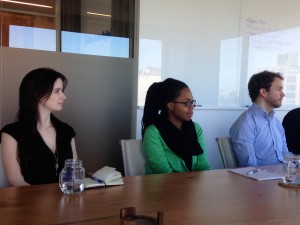 guest article by Lodro Rinzler
originally published on the Huffington Post
I helped organize a Buddhist youth conference in 2003. Two hundred young meditators from around the world came together hoping to learn the secrets of life from the head of the Shambhala Buddhist lineage, Sakyong Mipham Rinpoche. They wanted to hear career advice, ways to make their relationships more mindful, or how to life a "good" Buddhist lifestyle.
He took his seat and looked out at the crowd. He said, "I am going to create an enlightened society. And you're going to help me do that, right?" The crowd was mute. He pushed us: "Right?" Suddenly we woke up to what he was intimating. "Right!" we declared.
The idea of an "enlightened society" in the Shambhala tradition is the idea that we can manifest mindfulness and compassion in our work life, relationships, and communities, ostensibly letting those qualities have a positive impact on society as a whole. You and me? We can contribute to a more awake, or enlightened, society on a day-to-day level, using mindfulness as a way to become more clear on how to do that.
I just used a term that's gotten plenty of attention lately: mindfulness. One of my fellow bloggers for The Huffington Post declared 2014, "The Year of Mindful Living." For the second time in the last decade TIME magazine put meditation on its cover. The headline? "The Mindfulness Revolution." The sub-title? "The science of finding focus in a stressed out, multi-tasking culture." A fair amount has been said about TIME's questionable choice of a blonde, white woman representing this revolution and much of that I agree with. But I'm not here to argue that issue. I'd like to argue that they missed the point of the revolution altogether.
Mindfulness is not a trend, as people have been declaring on this and other sites. It's a movement. And not a movement based on people getting less stressed out or more focused. Mindfulness is a movement because it's going to help people help other people.
I do two things for a living. I'm an author of a bunch of books on Buddhist meditation and how it helps you in everyday life and I run something called the Institute for Compassionate Leadership. I was born and raised meditating and I don't see myself stopping should it become untrendy. As part of my work I teach meditation, either in Shambhala Centers, universities, in companies or at the institute.
I've taught meditation to all sorts of people and they may have started because they were stressed out, or they had suffered a loss, or they needed help dealing with strong emotions. But if you give them a few weeks of meditating regularly, all of a sudden they noticed their suffering was not unique.
Through becoming more familiar with their own minds and ways of struggle through mindfulness meditation, they all of a sudden were able to raise their gaze and be aware that other people suffer just like them. The story lines may differ, but they woke up to the fact that everyone suffers. After engaging mindfulness they are transformed into more compassionate beings with one simple question: "How can I help others?"
At this point you may think I would encourage them to bring more people to the flock. "Tell your friends about meditation! Let's get a massive congregation together and sit on our butts and get focused!" My answer is always the same: "It's up to you to make a difference in small and big ways. You have to make it personal. You have to make it actionable."
Sometimes people just try to be more compassionate in their home and work life. Sometimes people actually engage their community through volunteerism or social action. This is the mindfulness movement: people getting off the meditation cushion and knowing that it's up to them to slow the rise of suffering in the world.
The mindfulness movement has already begun. There are little pockets of meditators and yogis getting together with the SEIU to rally around the minimum wage issue. There are school teachers meeting in massive conferences talking about how to bring mindfulness into our education system. Then there are people like me, supporting causes like those but also starting full-fledged leadership trainings for people inspired to change society.
The Institute for Compassionate Leadership takes people who want to help the world and gets them focused and trained up to do just that. Then we help them network to find that social change job. Through our mindfulness, community organizing, and practical leadership training, we create new contributors to the movement of people doing good in the world.
Mindfulness isn't going to be a trend, because it's been around for thousands of years. It will gain more popularity and understanding, and that's great. Because we need more people looking at their own suffering in order to better understand suffering in their communities. The movement aspect will soon be mainstream as well. Meditators are already getting off the cushion and starting to make a difference.
~~


Lodro Rinzler's advice and relationship columns appear regularly in the Huffington Post and Marie Claire, and he has been featured in numerous publications, including Bloomberg Businessweek, Real Simple, Tricycle and
the Shambhala Sun. He is the founder of the Institute for Compassionate Leadership, and was also a member of Barack Obama's presidential campaign team. The former executive director of the Boston Shambhala Center, Rinzler currently teaches at the New York Shambhala Meditation Center and lectures throughout North America. He is the author of the bestselling The Buddha Walks into a Bar . . ., and the award-winning Walk Like a Buddha, and the forthcoming The Buddha Walks into the Office: A Guide to Livelihood for a New Generation and Sit Like a Buddha: A Pocket Guide to Meditation, both available in the fall of 2014. He lives in Brooklyn, New York.
Post Tags:
Lodro Rinzler
,
mindfulness