Sunday
Scene and Heard
Ruling Your World: Now in Russian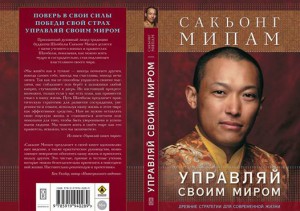 The Shambhala Times is delighted to announce the successful translation of Sakyong Mipham's book "Ruling Your World" into the Russian language.
It has finally happened. Ruling Your World has just been printed and is ready to launch. It was translated in Russian through the cooperation of three English-Russian translators, Irina Vorobiova and Aleksei Mikhanchuk from Kiev, Ukraine, and Ella Reznikova, originally from Lviv, Ukraine and now from Karme Choling, Vermont.
Ironically enough, the books have been published in Moscow, Russia, during this time of such strong tension and turmoil between these two countries. According to one translator, it is an "Interesting coincidence, showing us that wisdom and compassion have no borders."
Sasha Nariyani, the Contributing Editor of the publishing house in Moscow, called Orientalia, helped to make it all possible.
It took awhile to translate the book with hundreds of email exchanges and Skype conversations. All of the translators worked for free in the midst of their busy lives. Vegan Aharonian from New York City helped to negotiate the financial and administrative issues. At one point he, the Ukrainian and the Russian coordinators from all the Shambhala groups and centers were raising funds for the project. Right now they are thinking of a way to transport the books from Moscow to Ukraine. The books are ready to be shipped to the Ukraine and some people are jokingly wondering how to carry these books through to the front line.
The translators wish to thank all of the European and American sponsors who generously gave money to support this project!
Currently, the translation of The Shambhala Principle is in process.
For more information about the publishing house, please click here.
Post Tags:
Ruling Your World
,
Russia
,
Sakyong Mipham
,
translators
,
Ukraine