Wednesday
Community Articles
Buddha in Ghana
Creating Enlightened Society
On A Visit to Afuaman, Ghana
by Sala Sweet
Seattle Shambhalian Sala Sweet is creating enlightened society in Ghana. Her many amazing projects include delivering used clothes to villagers, supporting schools, and co-founding an organization called the Grow Foundation for Ghana. Following are some "in the moment" excerpts from Sala's travel journal.
On a mid-summer Saturday in Ghana, eight members of the Accra North Rotary Club and visiting Rotarian and Shambhalian Sala Sweet, from the Ballard District of Seattle, USA, set off to visit the village of Afuaman and take boxes of used clothing to its residents.
Roads were flooded in places due to rain on the previous days. As we neared the village the truck driven by Rotarian Adam was steered into deep water and the front was submerged. On trying to back up, the back tires dug further into the mud. People gathered around to offer advice. Eventually, a larger truck came along and attached a chain to Adam's truck, pulling it out.
Since the road that would have allowed us to avoid this adventure was clearly visible and we could have easily been directed to it, there was some suspicion that we were set up. Fees were extracted from us for renting the chain and the labor of those who helped extricate the truck. However, on we traveled over roads that jarred our bones and muscles. We moved around so much as we bounced in our vehicles that we decided we had accomplished our exercise for the day.
Once in Afuaman we were directed to the Chief's Palace. Once there, however, we learned that there was an all night festival the night before and the Chief had left. Elders were assembled to accept the gifts that we brought.
After donating the clothes, we took a tour of the village and the land that surrounds it. Growing there is a lot of sugar cane, both cultivated and wild, as well as ground nuts (peanuts). We were taken to the site of an apeteche distillery. Having been raised in the foothills of the Appalachians it looked to me just like a moonshine still. The final product also resembles moonshine. It is used to toast/pour libations to the ancestors and to have a generally good time, if you are strong enough to imbibe it. Nevertheless, it is a money-making venture for the village.
We also had a chance to see a water distillation plant, sponsored by a company that provides the distilling equipment. The water is drawn from a nearby stream and put through a 5 or 6 step distillation process that yields potable, safe water. It is then sold to villagers at a discounted price. The profits are used to pay back the supplier of the equipment and over time, the community will own the distillation plant. It is very well run and has clearly distinct procedures. I asked if having safe water had produced an effect on the health of those in the village. I was told that guinea worm and bilharzias (aka schistosmiasis) had decreased, almost disappearing entirely.
Joy 2 The World
Kathleen Gibbs founded a school in a small village called Medie (pronounced media). She is someone I have spoken with at almost every Accra West Rotary meeting. Many times we have discussed the school she founded this village about 25km north of Accra. Joy 2 The World International School currently serves Nursery grades 1 and 2 (3 and 4 years old); K1, K2 (5 and 6 years old); and this fall it will start Primary 1. It opened in September, 2013.
On my visit, I attended the graduation of 9 students from K2 to Primary 1 as well as the PTA meeting that preceded it. Although it is a Christian School, one third of its students are Muslim and the curriculum is such that it serves all children. At the PTA meeting parents were informed that there would be a summer school with limited classroom teaching, arts and sports. This allows mothers to work and have a place where their children can be cared for. They were also advised that though the value of the national currency, the cedi, is declining daily and the economy is struggling, there would be no increase in fees for the coming year. Cheers of joy and relief greeted that announcement.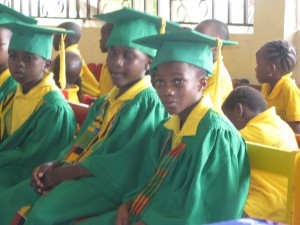 In that school, I saw a room full of shining eyes and future possibilities. The children are taught self confidence and they show it. The parents participate in the school in a way they don't in most public schools. The space feels alive.
Kathleen's plans are to expand the school, adding a grade or more of available instruction each year. She has begun fundraising to create a nursery through the equivalent of grade 12 in this system. This requires a new building and campus. If you would like to keep up with Joy 2 the World, see the shining faces of her students and donate or sponsor a child go to www.joy2theworld.org.
Grow Foundation for Ghana
Last year, while working for the College of Integrative Medical Sciences (CIMS) near Kumasi I came across an organization on the internet. Moving Worlds originated in Seattle last year and recruits "experteers" – highly skilled volunteers. I submitted a request for experteers to work with CIMS. In January of this year Michael Robinson, an accountant and videographer, responded. We communicated by email and weekly phone calls about helping CIMS. Soon Michael founded Grow Foundation for Ghana to help CIMS and other projects in Ghana. Michael traveled to Ghana in May to visit CIMS and other potential projects. I traveled with him part of that time.
A couple of weeks ago Michael said, "Sala, there wouldn't be a GFFG without your guidance, you have worked hard to bring it along and you are a good connection in Ghana, traveling there part of each year. Don't you think you might be a co-founder?" I guessed that I might. I therefore accepted that honor. GFFG has three Board members in the US, in North Carolina (where Michael resides), three in Ghana and one (me) who travels back and forth. We are looking at about 10 potential projects for the next year to 18 months. We will focus on two or three and begin fundraising. You will definitely be hearing about our organization and the projects with which we will begin our efforts.
College of Integrative Medical Sciences (CIMS)
Negotiations are still ongoing for a campus location for the college. The main focus now is an unfinished building in Kwamu, a village between the current location and the center of Kumasi. The first rent payments would be waived in lieu of CIMS finishing the building – electrical work, plumbing, floors and so on. This building is appropriate to begin the accreditation process. If negotiations are completed and funding is located, the improvements would be finished over the first semester of the next school year and classes would be held at the current location until then.
CIMS is offering programs in Nurses Assistant, General Medicine, Medical Imaging (x-ray) Technician and Medical Laboratory Assistant. Curricula are being created for Massage/Physiological Therapist Assistant, Herbal Laboratory Technician and Emergency Medical Technician (there is no current curriculum in Ghana for the latter two).
GFFG continues to work with CIMS. Michael has been working with a Dr. Addae to update the business plan and financial projections and negotiate with the owner of an additional property which may become a more permanent campus. Loans will need to come from outside of Ghana. The lowest interest rate, at regular banks, is 30% and non-bank financial institutions charge 50-80% interest. Unbelievable!
The general accreditation process has begun and each program will need to apply for accreditation separately with fees for each. These will be competency-based certificate programs. Further work will begin on degree programs.
~~
For more information about the Grow Foundation for Ghana, please click here.
For more information about the College of Integrative Medical Sciences, please click here.
Post Tags:
humanitarian aid
,
international
,
turning the flower outwards