Tuesday
Shambhala News Service
Kanjuro Shibata XX Commemoration at SMC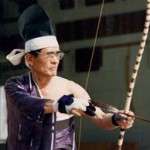 The one year anniversary of the passing of Kanjuro Shibata XX, Sendai will be commemorated at Shambhala Mountain Center on the morning of October 27, 2014. All members of the Shambhala community are warmly invited to attend.
A headstone and Sendai's remains will be placed on the Magyal Pomra Encampment grounds beside the existing headstone of Sendai's first wife, Kiyoko Shibata. A lhasang will be performed and all kyudo practitioners are warmly invited to bring equipment to pass through the smoke. A procession to the Kami Shrine is also planned, so offerings of food, flowers, coins, etc, are most welcome.
The ceremony is scheduled for 10am – noon. If you plan to attend please RSVP here: [email protected]. Be sure to indicate if you wish lunch after the ceremony, so staff knows how much food will be needed. Lunch will be available for $15 for those who have indicated they will be staying. Driving directions to Shambhala Mountain Center may be found here. Please be at the Encampment grounds by 10am sharp. There will be optional shooting at the azuchi following lunch for practitioners who have taken first shot.
Post Tags:
Shambhala Mountain Center