Thursday
Community Articles
How Do the Momos Taste?
COLUMN: Kitchen Wisdom
Interview with Chuck Lief, President of Naropa University
by Judy Sachs-Sullivan, Kitchen Wisdom Column co-host
I had originally set out to interview Judy Lief after reading her comments to a past article I had written for the Kitchen Wisdom Column. We spoke briefly on the phone and she directed me towards her husband, Charles Lief, who turns out to have had many rich opportunities over the years to cook for the Vidyadhara Chogyam Trungpa Rinpoche and in many dharma settings. Of course I knew Mr. Lief was the current President of Naropa University, had a long career as an Attorney in Boulder, and served on the Board of Directors during the Vajradhatu years. What surprised me was his connection and experience to the world of food, farming, and cooking.
As with many cooks, Chuck's interest in food came from his childhood. His father was ill during much of Chuck's childhood, so was home much of the time and served as the main cook in the family. His father enjoyed food and learned much of his cooking skills from his Jewish mother, and in turn this was handed down to his son. At the age of 15 years, Chuck worked in the kitchen of a nursing home, and a few years later ran a small coffee house at Brandeis University. In 1971, as a 20-year-old he moved to Karme Choling and one of his jobs was to cook for the community.
Once in the early days at Karme Choling, Trungpa Rinpoche told him to cook Tibetan food (something Chuck was not familiar with at the time) for an upcoming visit by Karma Thinley Rinpoche (whom the Vidyadhara had known back in Kham). Not knowing what to cook, he was instructed by the Vidyadhara to just cook "noodles and meat."
At another time he instructed Chuck about his own culinary likes which included, "…meat with lots of fat on it." The Vidyadhara's tastes included his Tibetan roots. Sometimes the Vidyadhara had 'inspired' recipes of his own, like when Chuck and Rinpoche cooked momos together for the Karme Choling community. These particular momos (Tibetan dumplings) were stuffed with a mixture of chopped beef tongue and spices. Trying to reproduce something Rinpoche recalled eating in Tibet, Chuck was instructed to soak the beef tongue in sake for days. In Tibet there was no refrigeration, and the Vidyadhara had wanted to keep this marinade in a bucket at room temperature, but Chuck thought that perhaps refrigeration "might be a good idea." Asking how the momos tasted, Chuck laughed and replied "they were horrible" as they were chewy and difficult to eat.
Another 'inspired' recipe of the Vidyadhara included a lamb dish. This consisted of halved and hollowed out oranges, filled with a mixture of ground lamb mixed with the orange pulp and spices. This was cooked in an electric pan in the Vidyadhara's bedroom at Karme Choling. The aroma of this dish filled the entire house, and the food itself was as Chuck put it…"edible."
Chuck also cooked for Rinpoche at the Court and "in odd situations, like when Rinpoche went to retreats." During these retreats, he served as substitute for the main cooks (Max King, Shari Vogler, or Joanne Carmin). Mr. Lief also cooked at some Seminaries, as he was very familiar with large kitchens and the operation of large kitchen equipment from his younger working days. In fact, Chuck managed the kitchen at the first Seminary in 1973, and spent time cooking at some Kalapa Assemblies over the years.
What I found very informative about the Vidyadhara from our interview was when Mr. Lief commented on the Vidyadhara's relationship with formal eating. Apparently, in Tibet people did not come together as a family when they ate. In Tibet "you had food, like you drank water. It was a matter of fact kinda way." The idea that a meal was a formalized, social opportunity to sit down and share food and conversation was not part of the Tibetan way of life, even in monasteries.
The Vidyadhara's introduction to formalized meals probably came about when the Vidyadhara went to Oxford University as a student. Dinners were very formal, people dressed for meals, came together, ate and exchanged conversation and ideas. Rinpoche was always interested in the ritual side of food here in the West, which is why he probably had many formal dinners at the Court. These dinners were "very structured, and often included the Qualities Game after dinner." Rinpoche enjoyed these dinners as they gave him a platform. He presided over the dinners, and these gave opportunities for many students to spend time with him, who ordinarily would not have had the opportunity.
In 1981/82, Chuck and other investors pulled financing together to buy a 640 acre wheat farm, which the Vidyadhara thought was a great idea. During the second year of ownership, Chuck and the investors had decided to plant pinto beans instead of wheat because it would provide more value. Well, in this particular year there was a "freak prairie windstorm which blew all the beans off the plants, into the spaces between the rows and the harvesting equipment could not pick them up." Unfortunately the farm turned out to be a total loss!
Later in Nova Scotia in the 80's, he, Jim Drescher and Bill McKeever invested in Haliburton House (which still exists under different ownership) and this consisted of a 32 room hotel, and 3 Historic properties in Halifax. He and Bill co-managed this successful business, which included the hotel and restaurant. It was a great deal of work, and he ran this for a couple of years as well as co-wrote some cookbooks with Heather McKenzie (a nutritionist and recipe tester).
His first book was a Canadian best-seller called, The Taste of Nova Scotia Cookbook (1994). The book sold over 30,000 copies and still sells in airports, restaurants, and tourist shops. The book was ahead of its time in its connection to the Farm-to-Table movement. The book includes recipes from Mr. Lief, as well as from Chefs involved in the farm to table association, and collected recipes from local church suppers! His second cookbook is entitled, Nova Scotia Cooking (1997). Both cookbooks include both traditional and contemporary recipes that use local ingredients from the Maritimes.
While Mr. Lief is very busy as President to Naropa University, he still finds the time to cook for University events, and for fundraising auctions for the school. His auctioned dinners have raised many funds for the University and for the Tibetan Village Project.

To read other entries in this column, please see: Kitchen Wisdom.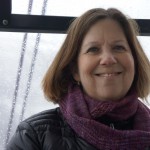 ~~
Judy Sachs Sullivan hopes to write articles that honor and bring to light the accomplishments of "the old dogs" and "forgotten warriors", especially those that are related to food, cooking, gardening, and farming. Sarva Mangalam!
Post Tags:
Chuck Lief
,
Kitchen Wisdom