Friday
Community Articles
The Conscientious Machen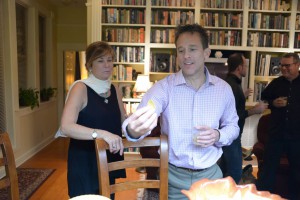 COLUMN: Dispatches from the Kalapa Court Kitchen
This is Part Two of an interview with Machen Corps Commander Michael Weiss about his experience serving in the Kalapa Court and as a Machen. Click here to read Part One.

Can a Machen make anything they want for the Sakyong and his family?
Not exactly. The Machen is there to serve, and therefore the job is really about taking care of the needs of the the family and their guests. The successful Machen will innovate and will be creative, but within the parameters associated with the family's needs and preferences. For example: if Rinpoche is training for a marathon, the conscientious Machen will take note adjust his menus accordingly. The conscientious Machen will not, for example, continue to produce a new flavor of homemade ice cream everyday for dessert. Not that I have any personal experience of this…
What is the Sakyong's favorite food? 
I am not sure. Rinpoche is marvelously inscrutable, and once you think you have him figured out, you are certain to be wrong. In a general way, I can say that Rinpoche seems interested in food that is 1) healthy 2) tasty 3) a genuine expression of a culinary tradition or of the spirit of a place or a culture.
What is the Sakyong Wangmo's favorite food?
As far as I can tell, the Sakyong Wangmo's preferences are informed to a great degree by her upbringing in India and Nepal, and by the Bhutanese lineage of her family on her mother's side. All of these cultures emphasize vegetables in their cuisine, and all have an affinity for chili–particularly Bhutanese cuisine. The Sakyong Wangmo seems to have no problem with dishes that would be unapproachably spicy and piquant for many of us. 
I remember one of the first times I cooked for Khandro Tseyang, I was working with her attendants Kaling Khamo (who many will know) and Tashi. It was a large Ripa family/Mukpo family dinner party in Halifax. Kaling and Tashi were preparing amadasi, a dish that is a bit like Bhutanese chili con queso. For this particular batch of amadasi, Kaling and Tashi had assembled – no joke – at least 10 lbs. of Thai green chillis (the small and very hot ones). They were frying these and adding them to the amadasi. I come from Texas, and I love hot food, but I was flabbergasted. I had never seen that volume of fresh hot chilis going into one dish. It was impressive.
What is the biggest difference in cooking for your friends and family versus cooking for the Sakyong and his family?
The biggest difference is that I am a much better cook when I am cooking for the Sakyong! It's true. Honestly, there is some sort of blessing that happens when you work in the Kalapa Court and you find that you can do things that you didn't know you could do. You can also do the things you already knew how to do, only better. So that's part of it. The other part is that when I am on duty as Machen in the Kalapa Court, I am entirely focused upon the mission–to prepare excellent meals. As a result, I am likely to be more creative and to execute my ideas more successfully.
If someone were interested in becoming a Machen, how would they go about it?
The Machen Corps is always happy to meet new folks who are interested in serving in the Kalapa Court kitchen. The easiest way for people to get in touch might be to ask the Rusung at your local center for the name of the Machen Corps Regional Commander. Alternately, an interested person could send an email of inquiry to [email protected]
Does a Machen need to be a professional cook?
The Machen Corps is open to anyone who is interested in court service and who likes to cook. There are opportunities for all levels of proficiency and experience, and not all of these necessarily involve the sort of commitment or responsibility that we have been discussing here. For instance, an interested person could volunteer to help with prep for a court reception–a fun and easy job. Or an interested person could volunteer to prepare a meal for the court staff–another good way to get some exposure to the Kalapa Court in a fairly low-stress context. Or an interested person could come in a few times a month, train under an experienced Machen, and finally arrive at a place where they were ready to commit to, say, preparing a 3 or 4 meals every month for the Sakyong's family.
To be a primary Machen in the court kitchen is a little different, and professional experience is probably helpful. The key is for folks to have 1) a good understanding of basic cooking techniques 2) a broad, if not necessarily deep, understanding of different cuisines and styles of cooking 3) the ability to successfully manage a busy, complex, and rapidly changing private kitchen. It also helps to have and friendly disposition and a calm demeanor! None of these qualifications are the exclusive province of culinary professionals, obviously; nonetheless, folks who have these qualifications will tend to be, or to have been, culinary professionals. 
Almost all of the folks who serve longer tours of duty in the Kalapa Court kitchen are present or former culinary professionals. Most are graduates of culinary academies, and many have quite substantial work experience. Machen Norris Eddy, for instance, was a saucier at the Four Seasons in New York. Machung Bobby Elbers presently works at Frasca in Boulder, CO–one of the top tier restaurants in the country. Machen Stephan Bierling has extensive academic and professional training from various contexts in France, Germany, and Switzerland. And that's just the first three people I thought of – there's more!
Is there ever going to be a Shambhala Culinary Academy?
There may very well be a Shambhala Culinary Academy one day. There is definitely interest out there, and I am aware that there are folks in the Machen Corps leadership who would be interested in initiating such a project. It seems like it is bound to happen at some point–whether sooner or later. I am not sure how one goes about creating a culinary academy, but I wonder if it might make sense for the Machen Corps to consider trying to partner with some of the existing Shambhala educational entities for a project of this sort. However it happens, I believe that a culinary academy would be a perfect avenue for propagating Shambhala culture and Kalapa Court culture.
In contemporary American society, cooking and the profession of cooking both embody so much of our fundamental confusion about how to live and work. On the one hand, we tend to focus very narrowly upon own well-being and enjoyment–particularly in regard to food, eating, diet–in hope of securing lasting satisfaction. On the other, we tend to think that speed, aggression, and competitiveness will help us get ahead–anyone who has worked for some time in a professional culinary milieu will have encountered this.
A Shambhala Culinary Academy would have much helpful wisdom to bring to bear on these issues. While the Kalapa Court kitchen is certainly not without its share of foibles, aggravations, I have gleaned some valuable insights from my time there. One is that it is possible to succeed by relaxing and trusting. In a larger society that is increasingly fixated upon food–sometimes for better, sometimes for worse–a Shambhala Culinary Academy could be a positive influence.
Post Tags:
cooking
,
food
,
Kalapa Court
,
Machen