Thursday
Scene and Heard
The Good of the Game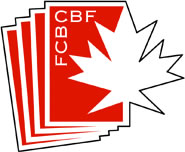 Sangha Member Inducted into Canadian Bridge Hall of Fame
article by Cara Thornley of St. Johsnbury, Vermont
Allan Graves was inducted into the Canadian Bridge Hall of Fame, Tuesday, May 26th by the chairman of the Canadian Bridge Federation in front of an enthusiastic audience that was in Montreal, Quebec to participate in the Canadian international team trials.
Jim McAvoy, from Victoria, B.C., long time bridge and personal friend, introduced Allan and spoke about the highlights of his career. Allan was introduced to bridge by his parents in Vancouver, BC at age 11, and went on to play in seventeen Canadian National Team Championships, winning 7 firsts, 2 seconds, and 4 third/fourths. After he moved to the U.S., Allan won 6 National American Bridge Championships and was selected for the U.S. Senior team in the 2013 World championships. In 2014, his team accomplished the rare feat of winning two of the three major U.S. team events in the same year.
Jim described Allan as being a great partner and teammate because he understands the importance of never blaming and knows that maintaining and facilitating confidence is "job one" for every member of the team.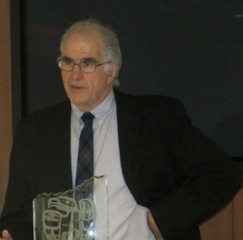 Allan, graciously accepting the award, expressed appreciation for the Canadian Bridge Federation and the opportunity to play over the years with great Canadian players and friends.
In the middle of his speech Allan was interrupted by a standing ovation when he spoke about his own passion, and the passion of the people he was addressing, for the game of bridge and the need to find better ways to pass on the game in North America. "We need to stress the importance of playing primarily for the love of the game rather than only for winning and losing," he said. One woman described Allan's speech as being about "the good of the game" and the "importance of being a good partner."
Allan – a talented bridge teacher – is currently working on curriculums for teaching new players the game. He is particularly interested in how bridge, recognized by the International Olympic Committee along with Chess and Go as a "mind sport," can develop many positive mental patterns – relaxed focus and emotional patience being two of them – which are applicable not only to bridge but to living in society.
~~
Have an exciting piece of news to share? Send it to us: [email protected]
Post Tags:
Award