Tuesday
Shambhala News Service
A Change for the Shambhala Times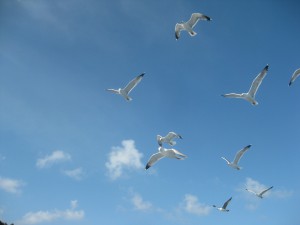 On September 1 the Shambhala Executive wished a loving farewell to Sarah Lipton after 4 years as Editor-in-Chief of the Shambhala Times. Sarah served with brilliance, joy and great vision. Her leadership and resourcefulness in inspiring and mentoring others has helped build the Times into a substantial organization reflecting the richness of our society.
Sarah is starting her own business offering leadership mentoring to individuals and organizations. Of her work, Sarah said: "Running the Shambhala Times has been a dream, the kind of work that you put blood, sweat and tears into, but feel very fulfilled by." To read more about Sarah's journey with the Shambhala Times and her newest endeavor, please see her Shambhala Times article: Farewell with Love. Please join us in expressing appreciation to Sarah for who she is and what she has done to communicate the heart of our teachings and community. We will miss her and wish her great success in the future!
We are delighted to welcome Carol Henderson as the new Editor-in-Chief of the Times. Carol has been a practitioner in the Shambhala tradition since 2004, attending her first Scorpion Seal Assembly and Magyal Pomra Encampment this year.
As well as great inspiration to serve the Sakyong and Shambhala community, Carol brings considerable experience to her new position. As an undergraduate, she majored in writing, learning about journalism and news reporting, as well as editorial, essay, fiction and nonfiction forms. As a college faculty member, dean, vice president and associate provost over many years at the St. Lawrence University, writing has always been a major part of her work. She has served as lead editor and content editor for the graduate and undergraduate catalogs of Ithaca College, overseeing the online editorial and publishing processes for these annually-produced electronic publications.
Carol currently lives at the Ecovillage at Ithaca, an intentional community devoted to all forms of sustainability and serves there as the president of their cooperative board of directors, as the coordinator of their shared work system, and as a member of the process steering committee.
Carol's speaks about A Change for the Times, in her first written piece as the new Editor-in-Chief! Please join us in welcoming Carol and wishing her a rich and fulfilling experience as our new editor!
Post Tags:
Shambhala News Service