Tuesday
Featured Stories
Farewell, with Love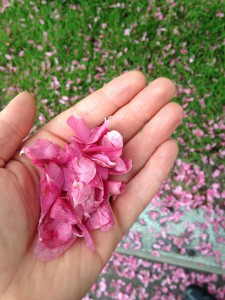 After over four years of service, Shambhala Times Editor-in-Chief Sarah Lipton is stepping away from the Times in order to run her new business: The Presence Point, LLC, through which she offers leadership mentoring to individuals and organizations. In this article, Sarah offers a few words on where she's been and why she's going. Stay tuned later this week to meet the new Editor-in-Chief: Carol Henderson.
The sun has just risen, fog is lifting over my ripening garden, my baby is still sleeping and the tops of trees are glowing a golden pink. Apples are thudding to the earth and the crickets are singing in four-part harmony. This is the end of an era, for me.
I have been serving the Sakyong and Shambhala as a "professional Buddhist" for the last eight years – first in the role of Center Coordinator at the Boston Shambhala Center, and second as how you all know me – Editor-in-Chief of the Shambhala Times. Today is my last day at the Shambhala Times, and my heart is both heavy with sadness and alight with excitement. I am moving on to fulfill my dreams, but before I get there, let me share the story that's been unfolding behind the scenes at the Shambhala Times.
Way back in 2007 when I first started working for the Boston Shambhala Center, I had a flash of inspiration that we needed a local online blog to share our stories with each other. I didn't have any technological know-how, so I started out by making a poster board. Then I went away to Karme Choling for a long retreat. By the time I returned, the The Shambhala Times had been born online. It was like magic! I quickly created the Wake Up Boston blog and happily kept it running for nearly 4 years. Then, like magic again, just as I was about to leave Boston and head to Karme Choling to live with my husband, I was asked to run the Shambhala Times. I said yes without hesitation (and of course, without having a clue what I was getting myself into, or recognizing that the Times would consume me for the next 4 years!).
Running the Shambhala Times has been a dream, the kind of work that you put blood, sweat and tears into but feel very fulfilled by. I very quickly saw incredible potential both for deepening the breadth and depth of content as well as expanding the reach of the Times. With the support of the Sakyong, who told me early on that the Times should manifest basic goodness, I felt I had my mandate. Richard Reoch was also a key supporter and guide, always encouraging me to stretch the boundaries of possibility.
There were challenges, but I learned to ask others for help. In fact, I learned that there was no way I could be the spider at the center of the international web without a lot of help. So I quickly started building Columns – ensuring regular quality content from around the globe. I began hiring volunteer interns from Naropa University – to both support college students in learning skills, and provide the Times with support (there are many nitty gritty details behind the scenes for an intern to tend to). I reached out and found a team of volunteers who could turn interviews into articles and articles into gems. I stuck my nose into the web more deeply and found writers hidden in distant valleys and encouraged them to shine on mountain peaks.
There is no large office building teeming with staff (contrary to this story – my favorite April Fools story of all time!), and although it's been mostly just me alone with a laptop, I have had the opportunity to work with an international team of volunteers via Skype and other online platforms. They are fantastic, and I can't thank them all enough. I will miss them, as I will miss you, dear readers.
So why would I leave this dynamic and exciting project? Because the Sakyong also said that we are being empowered to be who we are. That the development of enlightened society (which, by the way, is the other mandate of the Times – to be a showcase for the cultural expressions of enlightened society) relies on individuals showing up with everything they have and expressing that. And although I have incredibly deep love for the Shambhala Times and feel such joy that I got to build it into what it is today, it is not all of me. There is more in me that needs to manifest and be expressed.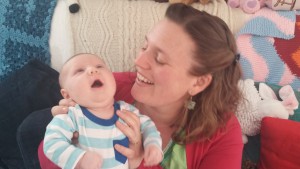 Last year as I was contemplating the future (belly swollen with my daughter), I saw that I would need to step away from the Times. This was both to allow someone fresh to step in and take the structure I had built to new heights and dimensions, but also releasing me to pursue my heart's work. It is time for me to turn the flower outwards in deeper service to the Sakyong and the vision of Shambhala.
As autumn begins to descend here in north-central Vermont, I will be turning to the manifestation of my work, out there in the world. I faced many hurdles to get to this point – mostly doubt. I had a lot to learn. But serving Shambhala as a practitioner and professional has been a thoroughly excellent training path.
Finally, with great excitement, I am launching my business. It is called The Presence Point, LLC, and will provide a platform for me to offer leadership mentoring, organizational development, and teachings on embodying leadership (which will unfurl in the form of workshops, books and a podcast – you heard it here first, folks!). Everything I have done to this point has been fodder for this work, and I invite you to continue joining my unfolding journey – check out my website for more information, and please stay in touch! www.thepresencepoint.com
The sun is now above the tree line, the pink haze is reflected in the trees beginning to turn towards their autumn colors. The gratitude I feel towards all of you, for contributing, writing, editing, volunteering your time, and of course – reading – is so deep that truly I have shed tears in these final days. I will miss you all, and I love you. I leave not out of pain or sadness, but out of unshakable faith in possibility. May you too find your true heart's calling and step onto that path fearlessly. I look forward to playing with you out there in the world!
But hey – stay tuned! Carol Henderson, your new Editor-in-Chief, she's fantastic! Her smile is as broad as the sky is blue and she is coming to you with a huge amount of fascinating experience. Her motivation is pure and I am thrilled for her to take up the reins after me. Please continue to write, comment, read and share the Shambhala Times. Please support Carol as she begins her Times journey. And you know, I am rather looking forward to being an "armchair reader" of the Times myself!
~~
Thank you to Dan Glenn and Ella Reznikova for interviewing me to help me write this piece. Thank you also to Ani Dawa Chotso for transcribing the audio at such late notice. And thank you to the lovely Carolyn Mandelker and my beautiful husband, Scott Robbins, for putting up with me during this transition!

Post Tags:
editorial
,
Sarah Lipton