Wednesday
Arts and Poetry
Blood Moon Doha
COLUMN: Poetry Space
curated by the Shambhala Times Poetry Space Editorial Board
led by Jeff Fink
While we're finishing up a forthcoming piece of reader submissions, here's an unusual entry.  
Last fall, we hosted a Level 2 Shambhala training here in Salt Lake led by Shelley Pierce of Seattle.  
Given the prompt of "Community," the eleven participants and five staff gave birth to following Doha on the evening of the blood moon eclipse. The accompanying photo was taken later the same night on a ridge in the Wasatch Mountains.
— Yours in the Great eastern Sun,  
Jeff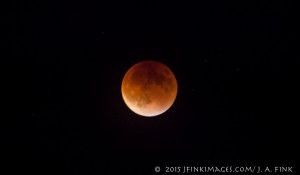 Community
so the community of warriors has given birth
leaping into the pool of life
as the red full moon rises
our roots reach down and meet each other
as we joyfully break bread
we swim in the sea of mud
in the pool the warriors should not grasp
after the reflection of the moon
the leaves float on the surface
and the red moon makes them appear
as if they were roses
the pool's depth is unknown
peace and awareness embodied in this moment.
the stillness that comes with that peace
quiets the mind
so that we may
take a shower if the struggle
makes us dirty
the sword of the samurai has come down
the moon bleeds the red blood
of the warrior
a single heart
Post Tags:
Poetry Space