Wednesday
Featured Stories
Mindful Movement
Practicing mindfulness through synchronization of mind and body
by Jennifer Wang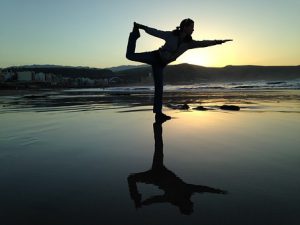 Mindfulness is one of those words that seems to be everywhere these days, but how many people really know what it means? Many people associate mindfulness and meditation with sitting quietly for hours trying desperately to shut out the world and turn off thoughts and sensations. But that's not necessarily what it's all about, and on top of that, it takes a whole lot of effort and struggle to accomplish something that seems counterintuitive to what it means to be a human being. What if we could use mindfulness to explore what it really means to be human, to be who we are in this very moment and not who we think we should be? What if, instead of trying desperately to shut out our sensations and experience, we could gently and lovingly pay attention to them and allow mindfulness to bring us down from our heads and into our whole being?
Paying attention to sensations gets us out of our heads and into our bodies, and into the world around us. How we experience everything in this world is through our bodies and senses, yet so many of us live in our bodies without paying attention to the small things, what it feels like to breathe, to move, to hear, to speak. Or if we do, it's in a way that is hard on ourselves, or struggling to fix or change something. The truth is that through our bodies, we can experience the joys of the present moment, of being alive. We can indulge in seeing the colors around us, hearing the sound of cars as they drive past, smelling the freshly cut grass. We can experience movement and exercise as ways to synchronize our minds with our bodies and to enjoy the feeling of being alive!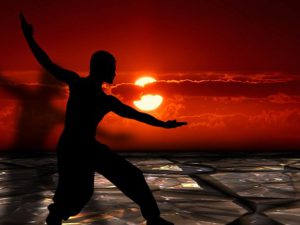 There are a number of practices which have been used for thousands of years to combine mind and body work, ways to combine mindfulness and movement. These include yoga, qigong, tai chi. But practicing mindful movement doesn't have to be limited to these activities – you can practice mindfulness during any form of exercise, or even just by walking outside and connecting with nature. Sakyong Mipham Rinpoche, the head of the Shambhala lineage, is a marathon runner and lifts weights and enjoys golf.
---
This all sounds great, but how do you practice mindful movement?
If you've tried a new form of exercise before, you know that your focus in the beginning is on just doing it right and getting through it. Once you've mastered form and technique, you can relax and your mind can be expansive. You need less of your mind to stay focused and the movement feels more natural. This can be the first 10 minutes of your workout, or the first few sessions. Once you start to get into your groove, you can introduce the mindfulness aspect. Start off by bringing your attention to the breath.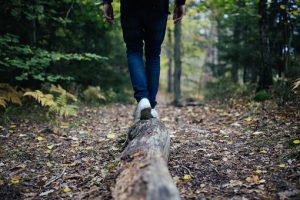 Then you can train in developing a level of panoramic awareness. With panoramic awareness you feel your internal environment – your rhythm, the pounding of your heart, your feet hitting the trail, your muscles stretching, points of tightness and looseness in your body. At the same time you tune in to your external environment – the room, the sky, the air, the sounds of life. Panoramic awareness coming from mindful movement is different from being just focused on form. It is a larger, more relaxed and open awareness. Sakyong Mipham says "Panoramic awareness is not zoning out, completely distracted by the fantasies in our head. Rather, it is a way to connect to our surroundings, an indication of being alive. It is the healthiness of the mind expressing itself through the healthiness of the body."
Many of us have all sorts of storylines and emotions attached to exercise, which can impact our motivation and experience. Rather than pushing away these storylines, we can be curious about them, noticing how they affect our relationship with fitness and ourselves. If we feel discomfort or pain during a workout, we can try detaching from the storyline about the pain, and instead just feel the pain in its raw state. Locate where it is and notice how the discomfort moves through the body. What kind of pain is it, burning, stretching, soreness, pulsing? When we stop viewing pain and discomfort as an enemy we can allow it to be a kind messenger. Then we can decide what to do about it from a place of clarity and intention.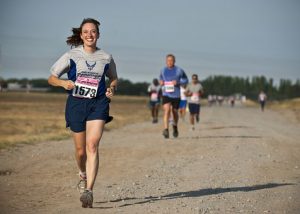 Through it all, it is VERY important to maintain an attitude of gentleness. Yes you are exerting yourself with your exercise, but if you find yourself pushing too hard, you will likely not want to exercise again because your experience has been painful and unenjoyable. It is important to exercise with a sense of compassion toward yourself and to listen to and attend to your body. If you are feeling on the point of exhaustion, don't beat yourself up. If you're feeling good, push a little harder. Sakyong Mipham says "If we do not push ourselves enough, we do not grow, but if we push ourselves too much, we regress. What is enough will change, depending on where we are and what we are doing. In that sense, the present moment is always some kind of beginning."
Tuning in to our bodies and our sensations is a way of bringing us back down to earth, back to our hearts. Whether we're running a marathon or practicing yoga, paying attention with a sense of gentleness and intention are all ways to practice mindfulness. Our senses and our breath are always with us, so when you feel challenged, touch in to them and allow them to bring you home, to the present moment.
Jennifer Wang is co-creator of a blog called The Tasteful Pantry, a resource for those living a healthy, delicious and mindful lifestyle. 
Post Tags:
exercise
,
fitness
,
mindfulness
,
yoga