Wednesday
Community Articles
Boston Shambhalians Celebrate "Midsummah" Day
An outstanding adventure, a beautiful place, and plenty of smiles and laughter
by Bob Abbott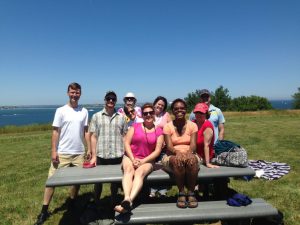 Alas another Midsummer Day has come and gone, but warm memories were made and auspiciousness was in the air with ideal weather, a full moon ripening in sync with the solstice, and festive friends gathering to share the day.
Setting Sail
The day began for most with a leisurely thirty minute, guided ferry ride to the island, with the exception of Paul who paddled his kayak the four miles or so from Dorchester Bay to the Spectacle dock. Having made such good time, Paul was able to enjoy a nice, lengthy trailside sit as he awaited our group to pass. Way to go Paul!
The group of Shambhalians gathered outside the Visitor Center while individuals took care of necessities, at which time we had the unexpected pleasure of welcoming a fellow Sangha member from Halifax, Oleg Garipov, who was in town on business for a few weeks. (We must have been radiating Great Eastern Sunshine that he recognized from afar!).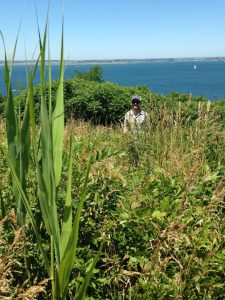 The Long Trek Uphill
We charted a course up the trail towards the gazebo perched upon the highest point in Boston harbor, the North Drumlin, and headed on our way. Martina was unfortunately waylaid by an errant sandwich order at the snack bar, but undeterred she sent us along with a vow to catch up.
We made our way along the trail at a leisurely pace as it wound around and up the drumlin perimeter, taking in the fresh sea air and clear, spacious harbor views. There were many other summer revelers about in various groupings; tourists, families, classes, and couples, but still plenty of open space to enjoy. The landscaping and grounds keeping were impeccable!
Settling In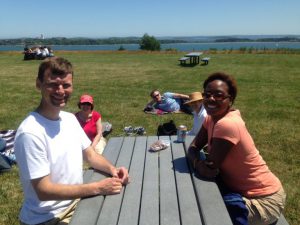 At last we summited the North Drumlin and checked in at the Gazebo before finding an open picnic table across the plateau at which to perch for lunch. Picnic supplies; check. Kite unfurling; check. Binoculars out; check. Where's Martina? Does someone have her number? Can somebody text her? Wait, who's that approaching the bridge (there's a small footbridge across a ditch to the plateau grounds). It's Martina! Flag her down! Yaaay!
We'd worked up a healthy appetite by that point and the picnic lunch was much enjoyed. We then relaxed into an hour or so of laying about, chatting, kite flying, and sightseeing. Shastri Evans lathered up in sunscreen while Ruth chose to stick with light long sleeves and pants. Max had brought a miniature, neon green flying disk thingy which unfortunately soon took an unexpected flight path into the high grass not to be seen again (if you're ever there, though, keep an eye out for it, it's neon green!).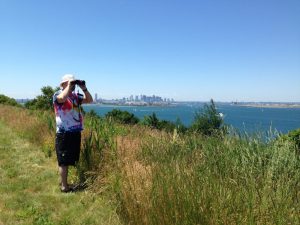 Heading Back Already?
Ahhhhhhh, summmmerrr. Wait, where'd the time go? 2:00 PM had rolled around before we knew it, so it was time to gather our things and make the trek back. Max's kite had extended about a mile into the air so he took the "walk and reel" approach, only getting the line slightly stuck in a tree once. Kite skills!
We wound our way down in much the same fashion as we'd ascended, and soon reached the dock, with just enough time to spare. Paul bid us adieu and embarked on his kayak trek back across Dorchester Bay. The rest of us boarded the ferry for the breezy ride back to Long Wharf. Back at the dock, we closed with a bow and hugs, and a few of us with extra time and thirst adjourned to the Sail Loft for drinks and hors d'oeuvres. Bring on summer!
Post Tags:
Boston
,
boston shambhala center
,
Midsummer Day