Thursday
Community Articles
Midsummer: Atlanta and Boston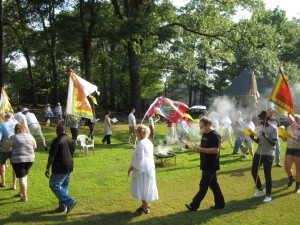 from Rhett Huber, Marketing and Communications at the Atlanta Shambhala Center
photos by Andy Richard and Laura DeMercurio
Here in Atlanta, we had a great Midsummer Day celebration. We enjoyed a parade with our little band after the lhasang ceremony, which was led by kasung members Harry Tate and Donna Kingsman. We recited the long form of the Gesar chant as smoke from the juniper billowed up and over the group. We harvest branches from a tree planted just for that purpose at the Center.
About 35 people gathered on Saturday for the ceremony, enjoying a feast from the grill afterward, badminton on the lawn and a drum circle as the hot summer day fell into a soft evening at the Atlanta Center.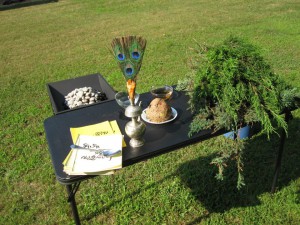 Visiting Atlanta? Visit the Atlanta Shambhala Center or stay at their Green Dragon Guest House. Click here to learn more.
~~
from the Boston Shambhala Center
photos by Paul Adams



We had a lovely Midsummer Day with a small gathering of community and children. For the second year, we rented this beautiful spot at a large park just outside of the city. Enjoy the photos!
For more information about the Boston Shambhala Center, click here.
Post Tags:
Atlanta
,
Boston
,
Midsummer Day