Thursday
Community Articles
Midsummer: Fredericton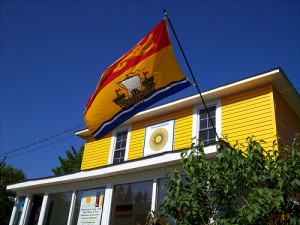 by David Seabrook, Director of the Fredericton Shambhala Center
On Sunday, June 17th, the Fredericton Shambhala Meditation Center celebrated its 10th Anniversary.
Under a glorious blue sky, surrounded by a carefully-tended garden in bloom, our community of practitioners, along with family and friends, gathered to enjoy a morning of practice and an afternoon of celebrations.
It was also a time to reflect. We reflected on how a handful of Shambhala meditators led by Annett Weber who had been moving from room to room around the City made a big and brave leap 10 years ago to purchase our own house on Serenity Lane, becoming a full Shambhala Center in the process. We reflected on how our sangha has grown now to more than 40 members and many more who participate in our programs. We reflected on the effort that former Directors like Dan Keating had put in to bring us this far. We reflected on the incredible work that our Rusung Pat Lee had put into the house and the garden, including the bright yellow paint job that acts as a beacon to all, proclaiming our aspiration to build an enlightened society.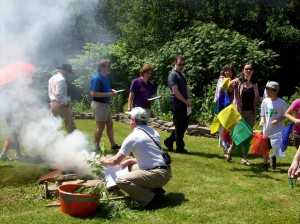 About 30 people participated in our Summer Solstice/10th Anniversary event, including family and friends and delightfully the children and parents of our Bodhi School. Our goal was simple: to celebrate our anniversary with a sense of belonging through food and friendship – something the Sakyong says should be an important part of manifesting a society of basic goodness.
The day began with an Ashe Society, then a Shambhala Sadhana, followed by community shamatha practice. This provided a nice ground for our celebrations.
The afternoon celebrations began with a lhasang led by senior teacher Craig Schneider, the stringing of new prayer flags, and a short talk from Center Director David Seabrook, who also read a letter of congratulations from Shambhala President Richard Reoch and New Brunswick Shastri Veit Weber who was teaching at the Scorpion Seal 2 Assembly in Karme Choling.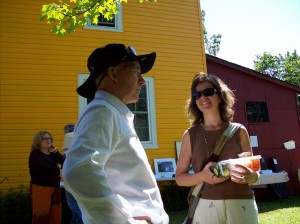 The sangha took time to thank retiring long-time Rusung Pat Lee for his outstanding contribution to the Center. Pat was presented with a framed print called "Samathi" by a Thai artist who was particularly fond of Chogyam Trungpa Rinpoche. The sangha also welcomed Dan Keating as our new Rusung, head of the Kasung protection governance pillar.
A great deal of windhorse energy arose when Fredericton witnessed its first Kyudo ("Way of the Bow") offering, as presented by Dale Hinchey and Valerie Hastings. The "Two Arrow" kyudo offering also marked the initiation of Kyudo practice programs associated with our Center at Dale and Valerie's Shibata Meadows Retreat Center near Fredericton in Stanley. This is a wonderful step forward for our Center and for contemplative practitioners in New Brunswick. The demonstration was beautiful and powerful, representing the opening of a full path of practice.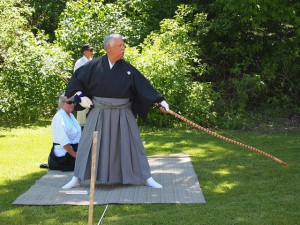 A silent auction with almost 30 donations raised more than $1,000 for the Center's building fund, specifically to be used to purchase a water purification system. Along with a grant from the Mother Lineage Fund, the Center is now able to green-light this project, which should result in removing the sulphur smell and taste from our well water.
The day ended with a community BBQ and potluck, as everyone sat under a broad shade tree and enjoyed the last bits of the afternoon. As it was a very bright, hot day, everyone agreed we had a new appreciation for the big tree…and perhaps what it means to be a Shambhala sangha.
Post Tags:
Fredericton
,
Midsummer Day