Friday
Featured Stories
Terma in Dark Times
An interview with Holly Gayley on the recent publication of her book, Love Letters from Golok: A Tantric Couple in Modern Tibet. It chronicles the lives and letters of a contemporary tantric couple, Khandro Tāre Lhamo and Namtrul Rinpoche (pictured here with Khenpo Jigme Phuntsok), who drew on  terma (treasure revelation) to make a significant contribution to revitalizing Buddhism in the region of Golok after the Cultural Revolution.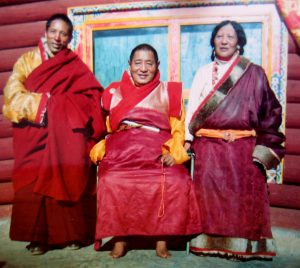 ST: First, congratulations on the publication of your book; how does it feel to finally see it in print?
HG: It's exciting. I started the project in the monkey year, 2004, and now twelve years later, it's the monkey year again. So it feels auspicious, like coming full circle.
ST: You've invested a great deal of time and energy in bringing the lives of this Tibetan Buddhist couple to the page. How were you drawn to their story, and what inspired you to make this investment?
HG: I first learned of Khandro Tāre Lhamo in a Tibetan literature class at Harvard, where we read the first part of her life story. Immediately, I was interested in her, since it can be difficult to recover the stories of Tibetan women from the historical record. She was an important figure in the Nyingma tradition in Golok as one of a small group of tantric masters who survived the years leading up to and including the Cultural Revolution.
Continuing to read and translate her story on my own inspired me to travel to Golok in eastern Tibet during the summer of 2004. On that trip, I was able to meet her husband, Namtrul Rinpoche (she had passed away just two years earlier), who gave me their collected writings, including their corpus of terma and collected letters.
Their letters turn out to be quite special, though it took time to make my way through them with the help of Tibetan lamas, poets, and singers. Their fresh style really grabbed me and also the way they combined a prophetic vision of their historical moment with the very human affection of a courtship.
ST: We tend to think of the great Tibetan teachers as single figures, rather than as couples. How accurate is that perception? Are there many couples such as Khandro Tāre Lhamo and Namtrul Rinpoche?
HG: There have been a few eminent couples like them preserved in the literary record, but not many. Usually Tibetan biographies center on male Buddhist masters. I met a number of female religious figures during my travels in eastern Tibet, but only a select few seem to make it into the literary record.
In the Nyingma tradition, especially for tertöns (treasure revealers), it is common for them to have one or more female consorts, since lineages of esoteric teachings tend to be passed down through the family. But the women's names and accomplishments routinely get lost to posterity.
ST: How did the relationship with Namtrul Rinpoche change Khandro Tāre Lhamo's situation? Do you think her teachings and terma discoveries would have had the same result had she continued on her own?
HG: That's a great question. In all likelihood, she would have remained a significant figure locally, but may not have travelled and taught as widely without her partnership with Namtrul Rinpoche. During the 1980s and 90s, the couple taught side by side throughout Golok and beyond, discovering and disseminating terma together.
From the mid-1990s forward, they drew a sizeable following to Nyenlung, the monastery they rebuilt in Serta, for annual teachings.
ST: Many of our readers see the present day as a dark time, yet it seems to pale in significance compared to Tibet during the Cultural Revolution. Do you think the courage and resilience of this couple can serve as an inspiration and example of how to live in challenging times?
HG: Yes, definitely. The story of this Tibetan couple has a lot to say about resilience in dark times, especially about surviving cultural trauma. Cultural trauma is when traditional social and cultural systems are disrupted, leading to a collective sense of devastation and dislocation.
To address this, they drew on the terma tradition in order to imagine their role together in restoring Buddhist teachings, practices, and institutions to the Tibetan plateau. It's a testament to the human spirit as well as an important example in how terma is meant to address the darkest of times.
ST: I'm interested in how their relationship developed first through writing to one another. What are the love letters like, and how do they show the growth and change of that relationship over time?
HG: Tāre Lhamo launched their courtship and correspondence at the age of forty by sending a letter containing a prophecy about their future revelations in 1978. So their letters began in a formal prophetic vein. But over time, they became more informal and affectionate. Alongside visionary recollections of their past lives together, they exchange playful ditties, imagining themselves to be uniquely compatible and destined to be together akin a snow lion atop a mountain peak or a tigress striding through the jungle.
ST: They say that terma are uncovered at the time when they are most needed. How do you see this playing out for the discoveries of this tertön couple?
HG: Khandro Tāre Lhamo and Namtrul Rinpoche saw their own terma as having the power to "heal the damage of degenerate times." Coming out of the Cultural Revolution, Tibetans must have feared that the Buddhist teachings had been lost. Terma provides a way to reinvigorate the stream teaching and blessings, understood to undiminished over time. The metaphor of healing appears in their letters and life stories as a central way that they viewed their own role in restoring Buddhism.
ST: What's next for you? Are you already working on a new project?
HG: I have a few translation projects in the works. Right now, I'm finishing translations of the life stories and love letters of Khandro Tāre Lhamo and Namtrul Rinpoche, to come out from Shambhala Publications.
I just finished editing an anthology of short gems of practice advice by nineteenth-century Tibetan masters, including Jamgön Kongtrul, Do Khyentse, Patrul Rinpoche, and Mipham the Great, with Joshua Schapiro. It should be coming out within the year from Wisdom Publications.
Next, I'd like to bring out a translation anthology of works by contemporary figures associated with Larung Buddhist Academy, also know as Larung Gar. Many people have heard of the recent demolitions at Larung Gar, but they may not know much about the successors to the late great Khenpo Jigme Phuntsok and why Larung Gar remains important today.
ST: Thank you for spending time with us, Holly, and thanks too for this wonderful book.
---
Holly Gayley is Assistant Professor of Buddhist Studies at the University of Colorado Boulder. She is also a senior teacher, or shastri, in the Shambhala tradition and serves on the Board of Directors of the Konchok Foundation.
Her book, Love Letters from Golok: A Tantric Couple in Modern Tibet, can be purchased at a 30% discount using the promo code "GOLOK" on the publisher's website: https://cup.columbia.edu/book/love-letters-from-golok/9780231180528.
To learn more about Holly Gayley's writings and translations, visit hollygayley.org. 
Post Tags:
love relationships
,
tertons
,
Tibet