Friday
Shambhala News Service
Retirement of three long-serving Shambhala Warriors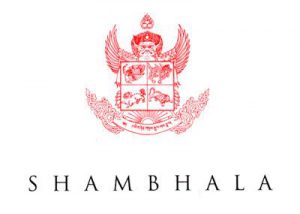 On behalf of the Kongma Sakyong, the Office of the Sakyong wishes to announce the retirement of three long-serving warriors:
Acharya Jeremy Hayward
Acharya Jeremy Hayward took his oath of retirement before the Sakyong at the 2017 Kalapa Garchen held at Karmȇ Chöling in May. An acharya since 1996, he has served the lineage and community of Shambhala for over four decades. In 1971 Jeremy moved to Karmȇ Chöling (then Tail of the Tiger) after meeting the Druk Sakyong the previous year. In 1974 he helped found Naropa University in Boulder, Colorado and was vice-President of the University for the first 10 years, and a Trustee for the next 12. He was appointed Minister of Education by the Druk Sakyong, relating with Alaya Preschool and Vidya School. The Druk Sakyong awarded Sir Jeremy the Order of the Garuda of Shambhala at the first Kalapa Assembly.
In 1977 he helped to create the Shambhala Training program and was a central figure in the development of the Shambhala teachings. Acharya Hayward taught widely and was acharya-in-residence at Dechen Chöling from 1999 to 2005 and at Dorje Denma Ling from 2005 to 2012. He wrote two important books about Shambhala—Sacred World, the Shambhala Path to Gentleness, Bravery and Power and his memoirs, Warrior-King of Shambhala: Remembering Chögyam Trungpa—that helped interpret the Shambhala teachings through his own practice and understanding.
Dr. Hayward holds a PhD in Physics from Cambridge. He has written three books on science and Buddhism, and participated in early dialogues on science and Buddhism with the Dalai Lama.
He will continue to serve as one of the Sakyong's editors, working on the Scorpion Seal Treasure series. This September 19 his retirement will be marked in Halifax at a Werma Feast in his honour. Those wishing to send messages may do so through Minister David Brown [email protected]
Sir Jeremy is the embodiment of the warrior's joyful and tender heart of sadness. As the Sakyong said upon his retirement: "How you served my family will always be personally so meaningful to me." We are all so very grateful he has offered his life to our world.
Minister Connie Brock, Chagdzö Kyi Khyap
Connie Brock, Shambhala Treasurer, Chagdzö Kyi Khyap and Member of the Kalapa Council, took her retirement oath before the Sakyong at the 2017 Kalapa Garchen. Connie has held the principal financial seat in Shambhala for 13 years, since she was appointed to the Sakyong's Council in 2004, serving as Treasurer in charge of overseeing the management and reporting of Shambhala's international finances.
In 2008 Connie was appointed the first Chagdzö Kyi Khyap (Bursar General) by the Sakyong with the higher responsibility for cultivating the proper view and practice for working with finances, and for appointing and supporting local center chagdzös in their roles. A practitioner since 1989, Connie served as Director of the Minneapolis Shambhala Center from 1997 – 2002 and joined the Shambhala Trust in 2002. The Treasury Council of Shambhala is now attending to Connie's duties.
A tireless and generous volunteer, Connie's devotion, good humor, resourcefulness, professionalism, and pragmatic optimism will be deeply missed. As the Sakyong said at her retirement, "Connie's steadiness has been a tremendous support to the lineage and Shambhala."
Please join us in wishing Connie joy and success in all her endeavors.
Director of Milk Lake Gregg Clause
Gregg Clause is retiring as Director of Milk Lake Retreat Centre (Ötso Shingsa) where he has served with flawless devotion and commitment for 18 years. Part of Gregg 's service was in partnership with his late wife Connie and his wife Alexandra Evans.
The Kongma Sakyong expressed his appreciation in a private audience at the conclusion of Scorpion Seal Assembly 9 in early June at Karmȇ Chöling.
Gregg's love of the land, the lineage and practice have sustained Milk Lake. His care for Milk Lake, the retreatants and the deep practice of solitary retreat has been exemplary. Mr. Clause will serve until new leadership is provided for Milk Lake.
Post Tags:
Shambhala News Service