Wednesday
Featured Stories
Lineage of the Mother Warriors
The Sakyong Wangmo celebrates the year of Yeshe Tsogyal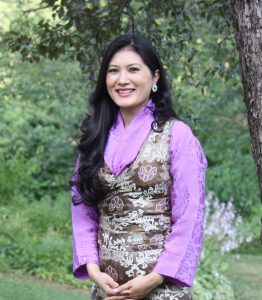 On a cool spring day in April 2008, when the Sakyong Wangmo formally took her seat as Shambhala's Queen, the edict read aloud on that occasion described her as "holding the lineage of the Mother warriors, protecting the sublime heritage of Great Gesar of Ling, and suffused with the blessings of the imperial dralas." Since then, the Shambhala community has come to know the Sakyong Wangmo as mother, wife, daughter, sister, generous patron, and dedicated practitioner. Now the Shambhala sangha finds her assuming new roles: she will give her first international address on Harvest of Peace, and just preceding that, the Sakyong Wangmo will lead a program celebrating the life and liberation of Yeshe Tsogyal, Queen of Samsara and Nirvana.
Tibetans worldwide and especially at Rigon Tashi Chöling, in Parping, Nepal – the Sakyong Wangmo's family monastery – are celebrating the year of Yeshe Tsogyal. For Shambhalians this means that Harvest of Peace celebrations next month, featuring the Sakyong Wangmo's address, may be particularly filled with the qualities of feminine principle, inviting the peace of wisdom beyond aggression to benefit all who struggle in these challenging times. Coinciding with these celebrations, the Boulder Shambhala Center will host an event, on Friday evening September 22nd and Saturday September 23rd: Yeshe Tsogyal: A Celebration of Feminine Principle with the Sakyong Wangmo.  
Yeshe Tosgyal was a principal consort of Padmasambhava (renowned for bringing Buddhism to Tibet in the 8th century CE), and the first Tibetan to become a lineage holder in the Dzokchen tradition. The Sakyong Wangmo, as a devoted student of Yeshe Tsogyal, and indeed as a lineage holder through her family's deep connection, will offer practice, song, and blessings at the Yeshe Tsogyal event.  The program begins on Friday evening (which is open to the public, unlike Saturday's which is restricted to Vajrayana students) and begins with a talk exploring the life and liberation of this great practitioner, given by Acharya Holly Gayley. Saturday will begin with Acharya Melissa Moore mining the depth and meaning of feminine principle, recognizing Yeshe Tsogyal's qualities and teachings as a prime example. Most importantly that day, the Sakyong Wangmo's presence and offerings will manifest as the embodiment of feminine principle in Shambhala.
As Acharya Moore observes, feminine principle is often misunderstood, leading to an unfortunate sense that feminine principle, or female deities, or indeed women, are somehow "less than" their masculine counterparts. While the mother lineage is both "gentle and tough" – meaning there is accommodation alongside the clarity of seeing what is needed to awaken the wisdom of the moment – there is an undeniably fierce and indestructible aspect present as well. The indestructible nature of feminine principle is the embodiment of space, which is the most impenetrable and unconquerable element of all. And, as Acharya Moore reminds us, feminine principle is not gender specific; it is something we all work to develop in our lives and in balance with masculine principle.  This harmony is like the moon's eclipse of the sun, she says. When feminine principle and masculine principle are aligned, potency and magic are available to the good-hearted warrior.
Registration information for Yeshe Tsogyal: A Celebration of Feminine Principle with the Sakyong Wangmo, can be found at the Boulder Shambhala Center website: boulder.shambhala.org.  Sponsor and subsidized pricing are available. Shambhala Online will soon announce access to recordings.
---
Melanie Klein serves as Executive Director of the Boulder Shambhala Center
---
Photo of the Sakyong Wangmo by Ian Bascetta
Post Tags:
Sakyong and Family
,
Sakyong Wangmo
,
Yeshe Tsogyal