Monday
Community Articles
Climate Change Optimism
Social Action LA takes a closer look at climate change, and engages in contemplation practice  to help participants carry their intentions from the cushion out into the world
by Chris Bomba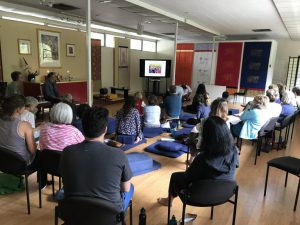 The morning of Saturday, September 16, over twenty people gathered at the Eagle Rock Shambhala Center for talks on an issue that affects us all — climate change. While hosted by our fledging social engagement group – Shambhala Social Action LA — the event was the idea of our indefatigable regional director, Sharon Owyang, who had entitled it: "Social Action on Climate Change: The Case for Optimism." The title proved to have been a big draw. When Jason Elias (my Social Action LA partner and co-moderator) asked why people had come, answers reflected a hunger for positive engagement in a global environmental crisis that can so easily evoke despair.
After Jason briefed the group on the View of the social action group, David Tillinghast – Shambhala LA member and professor in the Illustration Department at Art Center College of Design – took the stage. Having recently completed training to serve as a volunteer Climate Reality Leader, under a program of former U.S. Vice President Al Gore and The Climate Reality Project, he gave the same lecture that Al Gore presents around the world, framing it with the story of his own awakening, both personal and professional, to the whys and hows of sustainability.   While David's revelations about the rapid rise in the temperature of the Earth's atmosphere were grim, there was cause for optimism. Wind and solar technologies, for instance, have become so inexpensive they've reached the point of being more profitable than fossil fuels, and are bringing clean electricity for the first time to rural, grid-less communities in Africa and Asia.
David was followed by Marcos Trinidad, also a Shambhala LA member and the Director of the Audubon Center at Ernest E. Debs Park. Marcos not only described the center and its programs, he detailed its efforts to engage the predominately Latino residents of Northeast Los Angeles, where he was born and raised. (His parents met at a bus stop just outside the park.) In contrast to David's photos of hurricanes, retreating glaciers and state-sized ice sheets breaking off from Antarctica, Marcos taught us how we might determine the state of our local environment simply by seeing which birds reside in our backyards. His emphasis on the local not only put the global crisis into perspective, it inspired us to seek a deeper connection with our immediate community.
The morning concluded with Jason leading us in a contemplation created by Acharya Emily Bower, who has served as Social Action LA's advisor since day one. Designed to help us carry our intentions from the cushion out into the world – raising windhorse before any social action we might undertake — this contemplation simply asks us to ponder what's required for all beings, animal and human, "to feel safe and thrive." That cuts right to the heart of the matter!
There is talk of doing the same presentation (or a version of it) at the Westside and Orange County Centers in 2018. In the meantime, David Tillinghast is open to giving his Climate Reality talk to any interested group. Contact him if you know of or are involved with a group that might like to hear this presentation. Shambhala Social Action LA hopes to host more such informational events on important issues, as well as organize more "actions" like our participation in a Heal The Bay beach cleanup back in June. I urge you to follow our BLOG or join our Facebook Group. While this inaugural year has been slanted toward the environment, we'll be moving into other areas in 2018. We welcome everyone's participation, ideas, and optimism.
---
The post Climate Change Optimism appeared first on Shambhala Meditation Center of Los Angeles. Top photo by Anne Saitzyk.
---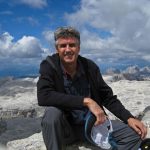 Chris Bomba serves as one of the co-leaders of Shambhala Social Action LA.
Post Tags:
climate change
,
environment
,
environmental activism
,
Environmental Initiatives