Tuesday
Featured Stories
King Zero Is Not Retired
Part Two of an interview with Buddhist monk Ashin Issariya, from Wimoteti Thuka Monastery, Myanmar
by Larry Steele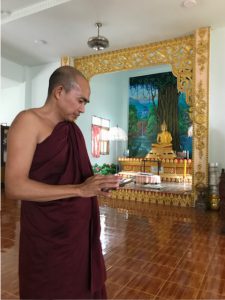 At this point, there is no moderate coalition in Myanmar to speak up about peace, harmony, and diversity. Monks are traditionally hesitant to criticize other monks, so there is virtually no counter-movement to balance the military-backed extremists.
Ashin Issariya is an exception.
In 2007 Issariya and his friends opened secretive libraries and posted "STOP" sign stickers across the country in defiance of the military regime. In what became known as the Saffron Revolution, they organized a "Pattanikkujjana," during which monks refused their daily alms of food, denying the blessings ordinarily gained by their benefactors. They wanted an apology from "the generals" for beating a group of peacefully protesting monks. Students and others joined the street demonstrations.
Then the Tatmadaw opened fire. Thirteen monks were killed and many more were sent to prison. Even under harsh interrogation Issariya's friends refused to identify him. They began calling him "King Zero" for his interest in the Buddhist concept of selfless impermanence, or emptiness. The young monk eventually crossed the border into exile in Thailand.
Today, Issariya lives at the remote Wimoteti Thuka Monastery, 130 miles from the major city of Yangon along a narrow highway through rice paddies and rubber plantations. The monastery is small, just the main shrine room and a wash building. When I arrived for our interview Issssriya was hanging his saffron robes on a clothesline to dry in the tropical heat. Craftsmen were decorating a new concrete archway at the gate.
Issariya was relaxed and quick to laugh. After greetings he suggested lunch before we continued. He and another monk sat at a low table on the polished floor near the shrine. There was no place set for me so, unsure of the protocol, I sat on my knees beside him and remained meditatively silent. Two students served the monks and fanned away flies, creating a pleasant breeze. When the monks finished eating, the students invited me to another table where they served lunch again.
Wimoteti Thuka's shrine room is in a whitewashed rectangular building, about 50 x 100 feet, with a highly polished bamboo floor, white and gold columns, and a beautifully gold-gilded Buddha shrine. Its most arresting characteristic, however, is a long row of metal bookshelves stacked high with novels, technical books, and encyclopedias from the "Best Friend" libraries collected by the young Issariya and his friends in the years leading to the 2007 Saffron Revolution. I counted about 2,500 volumes.
King Zero has always emphasized the need for better education, particularly monastic education. His goal at his nascent monastery is to teach English and computer skills. "Some people are not able to read history," he said. "The army does not want good education. We learn only memorization, not critical thinking. So, when extremists speak about hate, people believe them."
"It is only a few people," Issariya said. "But they cause great harm."
As a monk, Issariya is somewhat protected and continues to speak as a Buddhist about the path forward for democracy and human rights. One of his priorities is that "we must revise the 2008 constitution," which assures the military 25% of the seats in parliament and control over key security ministries. "If we cannot change this, we cannot call Myanmar an authentic democracy," Issariya said.
State Councilor "Aung San Suu Kyi doesn't have enough power to change the constitution. If the leaders of all the ethnicities supported her it would be more easy. But the ethnic leaders are rich," he said, referring to widely-reported corruption and smuggling involving the Tatmadaw and some militant groups.
"In front they say they want peace talks, but around behind they are fighting," Issariya said.
Prosecution at the International Criminal Court of the key military officers responsible for the Rohingya "clearance operation" would be an important step, Issariya said. "Without prosecutions it will be very difficult. Otherwise it is only talk."
In early May a delegation of the United Nations Security Council toured the Rohingya refugee camp and the burned-out Myanmar villages that had been their former homes. They met in Naypyidaw, Myanmar's capitol, with Aung San Suu Kyi and Commander-in-chief Senior General Min Aung Hlaing. Little visible progress was reported.
"Only talk," Issariya opined.
(A few days later Aung San Suu Kyi met with China's Minister of Public Security, Zhao Kezhi.)
Off the record, United Nations and U.S. human rights workers agree that the Myanmar government appears to be dragging its feet about repatriation of the Rohingya. "Nobody is coming back any time soon," one worker said.
That leaves one million people in the Bangladesh refugee camp, where many will certainly die in the weeks ahead as monsoon rains and cyclones tear apart their makeshift shelters. Bangladesh and the international aid agencies working in the camps need massive support to prevent an even more catastrophic human tragedy.
Meanwhile, with Buddhist patience and exertion, Ashin Issariya continues searching for the right path forward. With a sad smile he said, "King Zero is not retired."
---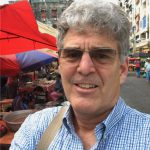 Larry Steele meditates at the Seattle Shambhala Center. He has worked and travelled as an international businessperson, and last year retired from his work as a high school educator in business and world history.
---
For part one of this interview story, click here.
Post Tags:
Myanmar
,
refugees
,
Rohingya