Saturday
Featured Stories
Right Speech in Myanmar
A look at the everyday lives of Buddhists in Myanmar, with the possibilities of courage and peace
by Larry Steele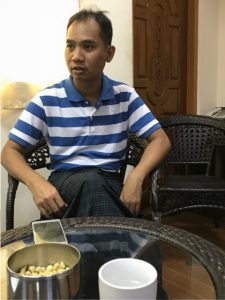 Buddhists in strife-torn Myanmar suffer the blame for violence and oppression by their too-powerful military, as reported in the first article of this series, "A Monk Called King Zero." But the brutal news about Myanmar's expulsion of 700,000 Rohingya Muslim refugees reflects a distorted view of the everyday lives of Myanmar Buddhists. (See Richard Reoch's Eyewitness Reports about the Rohingya crisis.)
Another narrative is possible.
Ba Din (not his real name) is a third-year college student in Mandalay. He drives tourist boats on the Irrawaddy River and hopes to become a licensed tour guide when he graduates with a degree in history. He may reflect the view of many Myanmar people who are struggling to find a place in a modernizing economy.
"I only want three things," he said over the putt-putt of the boat engine and the splash of the river. "A job. Some money. A family. That's all I need."
The desire for a peaceful life seems universal.
Diversity is visible everywhere on the streets of Myanmar's cities and towns. Ubiquitous Buddhist pogodas are interspersed with Muslim mosques, Hindu temples, and Christian churches. Bearded Muslim mechanics repair cars in roadside auto shops. Headscarves and taqiyah skullcaps float along in the sidewalk stream of people.
In a published interview Matthew Walton, Aung San Suu Kyi Senior Research Fellow at the Oxford University Sustainable Security Program, suggested that despite the racial divisions that grew during colonialism and war Myanmar's 135 registered ethnic groups also share "memories of peaceful inter-religious coexistence."
"For a number of people that we've interviewed, these memories have been a strong component of what they consider to be their identity as 'Myanmar' and of how they see their local communities," Walton said. People have memories and stories about shared suffering under military regimes, and also about living shoulder to shoulder in daily life. "Without those memories, it is much easier to paint an entire group with broad brush strokes, and to attribute actions not to individuals but to entire identity groups," Walton said.
The U.S. Agency for International Development is working to foster stories of ethnic harmony. One project involves publishing inter-faith Peace Journals featuring local artists, writers, and poets who are moderate and celebrate the beauty of diversity. People read the journals during literature talks in remote villages, helping to reinforce their own stories about living together.
Myanmar's military, however, operates with an Orwellian mindset. The generals suppress free speech and promote a distorted version of the truth similar to the "newspeak" of Orwell's novel "1984."
The story of Swe Win illuminates Myanmar's repression of the right to speak. Like so many others who questioned the military dictatorship, Swe Win endured a two-year prison term, was tortured, and starved until "we were desperately longing for food." Today he is the widely-published editor-in-chief of the online news service Myanmar Now. He is a calm, generous young man who lives, as best as he can, by the Dharma.
"It seems like a dilemma," he said. "I find it difficult to strike a balance between my condition, my desire to fight injustice, and the law of karma. How can you fight without causing negativity? That is the challenge."
Swe Win recalls the many historical examples of revolutionaries who have fought against abuse and oppression only to become abusive oppressors themselves. "In my best imagination I want not just to be an opponent of extremism," he said. "I want to be a good person."
This former inmate now re-enters Yangon's infamous Insein Prison (pronounced like "insane") as a volunteer to help coordinate Vipassana meditation classes. "Prison is our university," he said. "In prison we learn the truth about our country and its issues from a variety of people; from monks and businessmen, from ethnicities different than our own. We all wear the same color uniforms. We all stare at the same color walls. Time disappears and there is no interruption from the outside world. People are near suicide."
"It is a unique opportunity to reflect," he said. "We have the opportunity to examine who we are. We have the opportunity to think about what we want to do in this life." Today, this compassionate young journalist is on trial under Myanmar's telecommunications law. One of his reporters wrote an article critical of the hate-speaking monk Ashin Wirathu. Swe Win re-posted it on his own Facebook page. That is the charge. Since July 2017 the court in Mandalay has required Swe Win to appear every two weeks, waiting for a decision that could sentence him to another two years in prison. He is being targeted as a well-known editor. This is media freedom in Myanmar.
Many people told me there is no organized Buddhist opposition to the army-backed hate speech of the extremists. Fear of prison is a factor, of course. But also, they say, because Buddhism is about individual non-attachment, and non-duality, "Buddhists are not so good at organizing. There is a leadership vacuum," they said.
Then I interviewed U Kovida, a 47-year-old monk who is the teacher of a friend of Ashin Issariya. We talked about patience in the face of injustice. "It is very difficult to be patient," U Kovida said. "It is not for the weak. You must have a strong mind."
"Yes, but…" I replied again and again, challenging him about my attachment to "doing something." I asked, "Why aren't more Buddhists protesting about violence against the Rohingya and other ethnic people?"  U Kovida just laughed. He laughed through our entire conversation until I was laughing, too. The man must be close to enlightenment. "Protesting might not be necessary to reach where you want to go," he said. "We must continue to be patient, but that doesn't mean to sit and wait. We all have to do what we have to do."
U Kovida recalled that the hate-speaking monks of Ma Ba Tha were very active, and supported the army's political party, during the 2015 elections when Aung San Suu Kui's National League for Democracy won a surprising victory. "People understood they must not vote for the army," he said.
It is not right to say that Buddhists are not organized, said U Kovida: "Even though you cannot see it, Buddhist people are deeply organized."
---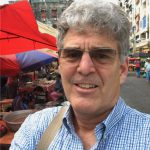 Larry Steele meditates at the Seattle Shambhala Center. He worked and traveled as an international business person and retired last year as a high school world history and business educator. Larry filed this story from Rangon, Myanmar.
Post Tags:
buddhist activism
,
Myanmar
,
peace
,
politics