Wednesday
Featured Stories
Embodying Earth Energy
The beauties and benefits of mindfulness practice in the natural world
by Donna Williams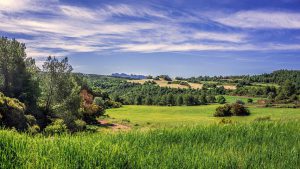 "The human potential for intelligence and dignity is attuned to experiencing the brilliance of the bright blue sky, the freshness of green fields, and the beauty of trees and mountains," Chögyam Trungpa Rinpoche, Sacred Path of the Warrior.
I was teaching in Santiago, Chile during March of 2017.  When I came back to Vermont, I reflected on how so many students had complained of the stress of living in the city. Often workers spend upwards of ten hours a day at work and one and a half to two hours commuting. Shortly after my return, I came across a podcast/ interview with Florence Williams, author of The Nature Fix. In this informative book, Ms. Williams discusses research into the healing power of nature, both medical and psychological.  A potent example: in South Korea, they have official healing forests; thirty-four are planned, with their own interpretive nature guides.  Various maladies are hoped to be addressed through time spent in these forests, from various autoimmune diseases, to cancer, to high blood pressure, diabetes, and other stress-induced ailments
Here in North America, psychologists are measuring the effects of natural environments on firefighters and others with PTSD, at-risk youth, and workers from high stress environments.  Some of the language used in this research is interesting.  Dr. David Strayer, a professor at the University of Utah who studies Attention Restoration Theory, distinguishes three main networks in the brain: the executive network, the spatial network, and the default network.  He posits that today's brisk cultural and work environments rely heavily on the executive function, using it for making decisions, creating lists of activities to complete, meeting deadlines, and multi-tasking in general. We rarely leave that executive network realm, and seldom move into the default network, which he describes as our "free-ranging, day-dreaming, mind-wandering, flower child of the brain, thought to produce creativity, empathy and heights of insight." 
Strayer makes a case that overuse of the executive function leads to exhaustion and stress. In various sections of Florence Williams' book, nature is viewed as a smart pill that allows us to open up, to turn off the executive function, and to abide in this "default" mode–a restorative reprieve 
Throughout my study of Williams' book and others on the positive effects of the natural world, I was often reminded of Chögyam Trungpa Rinpoche's writings about Sacred World. In the chapter called "Discovering Magic," from Shambhala: The Sacred Path of the Warrior, he writes: "if you are able to relax – to relax to a cloud by looking at it, relax to a drop of rain…You may see anything, a fly buzzing, you may see a snowflake, you may see ripples of water, but you can actually look at all of these things with simple and ordinary perception. You experience a vast realm of perceptions unfolding. There is unlimited sound, sight, taste, feeling, and so on. The realm of perception is limitless."
Weaving together the restorative effects of nature with the above description of our perceptions, I've been developing a program working in nature with the senses and mindfulness practice. Here is an exercise that we can dip into during our workday to have a quick reprieve:
Step away from your computer/ deskspace; go outside and stand in front of something green (or a potted plant inside, if going outdoors is untenable). Feeling the ground under your feet, take several deep breaths, taking in the oxygen the plant/tree is providing and sharing your carbon dioxide with it. Focus on this exchange with a feeling of generosity and care for several minutes.

The next part is very simple: feel the gravity that is rooting us to the Earth. While feeling your head as floating up to the clouds, focus on the experience of gravity. Feel a weightiness in your arms at the elbows, your lower jaw, the backs of your knees.  Spend several minutes on this part of the exercise.

Your body is sinking into the earth, relaxing and subtly connecting with the energy of our planet all the way down to its molten metallic core. (You could mentally envision the lava flows from the recent volcanic videos of Hawaii.)We are attached and letting go into this force. Imagine the pull of this core.  Your focus is on your body letting go.

After several minutes, we can open our eyes and reorient ourselves.

To close this exercise, come back up to our mutual respiration (the tree and us). Refreshed, we have more carbon dioxide to share and can experience the aliveness of our body.

If possible, we can bow to our tree (ivy, potted plant).
---
Editor's note: Shastri Williams will be leading a program at Karmê Chöling, July 6-8, on working with nature, our senses, and mindfulness meditation practice. The program title is "Embodying Earth Energy."
---

Donna Williams serves as a Shastri at the White River Shambhala Center and beyond.
Post Tags:
awareness
,
earth
,
nature
,
senses
,
stress reduction