Friday
Community Articles
Project Worthmore
Understanding immigration issues in our community 
by Rachel Hanson
On Tuesday, May 29th, about fifteen members of the Shambhala Meditation Center of Denver (SMDC) gathered together for a panel on refugee issues in Colorado. The event was sponsored by the Denver Center's Community Engagement Team, and featured speakers from the Colorado Division of Refugee Services of the Department of Health and Human Services, and Project Worthmore. The panel's goal was to educate sangha members about the unique issues and challenges refugees face when they come to the United Sates, and also to identify potential opportunities to help.
Joe Horther, the Integration Partnerships Coordinator for DHS, spoke about the challenges refugees face when they flee their homes in search of safety, along with the struggles they may experience as they try to build new homes, find community, and integrate into life in the United States. In the past six months, Colorado has resettled 272 refugees, primarily in Greeley, Colorado Springs, and Denver. While resettlement numbers are lower than in years past, refugees continue to have a positive impact on Colorado's economy and culture as they make a new home in the state.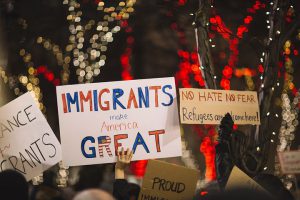 Sue Eberling, the Volunteer Coordinator at Project Worthmore, spoke to the sangha about volunteer opportunities working with refugees in Denver. Located in Aurora, Project Worthmore is a nonprofit organization that seeks to improve the quality of life of Denver-area refugees by providing cultural mentorship and community supports. The organization provides a variety of programs and services including English language classes, citizenship classes, a community-run food access program, a farm management training program, a dental clinic, and access to Community Navigators and Family Partners. Project Worthmore is looking for volunteers to assist in English language classes, work at DeLaney Community Farm, and staff special events. All sangha members who attended the panel received the orientation required to volunteer through Project Worthmore, and the Community Engagement Team is actively exploring ways to partner with the organization.
---
Editor's note: to learn more about Project Worthmore, visit their website: https://www.projectworthmore.org.
Post Tags:
refugees
,
social action
,
social engagement