Thursday
Community Articles
Fun and Belonging
Our experience at Enlightened Society Assembly in Austin, Texas
by Aarush and Aarnav Uli, ages 7 and 11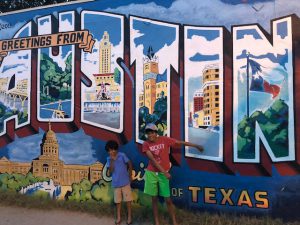 This year my brother and I attended the Enlightened Children's Program (ECP) at the Austin Shambala Center, led by Shastri Iris Ramos, with volunteers Christian Mitchell, Davis Maynard, and Miya Little.
A great part of the program was when we did the slip and slide and splash pad at Ricky Guerro Park, because it was fun running and surfing through the water. We also enjoyed delicious ice cream almost every day, and did mala bead and bracelet making.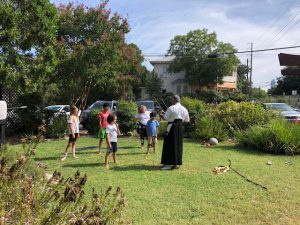 When we had a lesson on Kyudo Archery with Sensei Shibata, he taught us how to handle a large wooden bow. It made me feel strong, but we weren't allowed to practice shooting an arrow. He also taught about focus and how to visualize the target.
At the end of each day, we would join the ESA adults and sit down for evening chants.  It made my brother and me restless and fidgety, although hearing the words was interesting when all of the adults' voices were in unison.
Sitting having tea and making artwork reminded me of what we do at Bodhi School in Seattle. I also recognized many of the morning chants and would show off to my mom by not looking at the book while chanting. Lastly, I felt like I made a special bond with the kids and volunteers at the ECP program.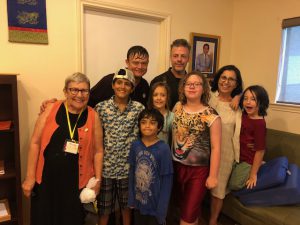 The child care volunteers and Shastri Iris were very kind and welcoming, and they made our field trips to see cave bats, slip and slide, the splash pad, and Barton Springs swimming, way more "funner." They always participated by spraying us with a hose (Splash Pad and Slip and Slide) and laughing along with us.
We would really love to go to ESA again.
Post Tags:
Austin TX
,
Children
,
children and families
,
Enlightened Society Assembly
,
Families and Children