Tuesday
Community Articles
Right Speech for Burma
By Larry Steele
"The Buddha guided us with many discourses concerning Right Speech. If we want to make good use of our speech, then we need to carefully consider whether our ways of speaking follow the Buddha as he directed."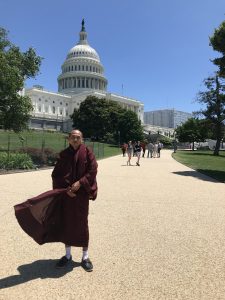 The Venerable Ashin Issariya repeats this basic Dharma teaching again and again.
A senior Burmese Buddhist monk, Issariya is the clearest voice opposing racist "hate speech" and military violence against civilians in his country.
This spring the Boulder Shambhala Center invited Issariya to America as a key speaker at the "Voices of Courage" conference in Colorado. Participants representing both Buddhist and Muslim communities gathered to discuss extremism in Burma (renamed Myanmar by the military-controlled government), "and anywhere it arises."
"I remember the heartsick feeling that arose after hearing that a faction of monks, Buddhist monks supported violence against a minority population in Myanmar," said Boulder Shambhala Executive Director Melanie Klein. "This faction takes the position that the Rohingya — a largely Muslim population living in the western state of Rakhine — must be eradicated from Myanmar to protect the nation's Buddhist religious culture" (Shambhala Times, April 2019).
A partial democracy since 2016, the government led by State Counselor Aung San Suu Kyi lacks the constitutional power to stop military abuses like the murderous 2017 expulsion of 740,000 Muslim Rohingya people, which the United Nations describes as ethnic cleansing. The army's actions have divided the country along racial and ethnic lines, and well-funded, pro-military monks have divided even the Buddhist sangha.
Burma's democratic transition has fallen off the tracks.
aka King Zero 
Everyone in Burma seems to have more than one name. Monks use religious names and titles. Generations of pro-democracy revolutionaries use various noms de guerre.  Ashin Issariya is popularly known as "King Zero," a name
chosen during his years in exile after the Saffron Revolution of 2007.
At the Voices of Courage conference, King Zero described his country's struggle for democracy.
"Many of my friends and colleagues were arrested, imprisoned, tortured, and killed in those years," he said. "Today the military junta in Burma is focused more than ever on prosecution of monks, journalists, students, and anyone who speaks against their control. We continue to put our lives in danger simply by telling the truth."
As a monk, Ashin Issariya speaks from the perspective of Buddhist teachings. His Dharma talks emphasize basic lessons about "Right Speech," and compassion for all beings.
"There are six kinds of speech among human beings," Issariya teaches. "The Buddha Himself practiced two kinds of speech, both of which are beneficial and right. The Buddha never spoke using… unbeneficial speech." The contrast is clear between basic Buddhist teaching and the hate speech used by Myanmar's pro-military monks.
With the Voices of Courage conference as a springboard, King Zero visited two Shambhala Centers in Los Angeles hosted by Southern California Regional Director Sharon Owyang and the local sangha. He also briefed the Los Angeles Times editorial board, and taught brief lessons at the Buddhist University of the West and the UCLA Center for Southeast Asian studies. In San Francisco he visited Burmese Buddhist communities and met with Bay Area monks during the dedication ceremony for a new pagoda.
King Zero often links his Dharma talks to the "unbeneficial, wrong, and unpleasant," aspects of life in Myanmar.
"The brutality of our military-dominated regime is completely against the teachings of Buddhism," he says. "To call them Buddhists is nonsense. They will persecute and manipulate everyone in Burma, even our sacred Buddhist sangha, to maintain power. They have no shame."
"The generals want to show the world that we are not a stable nation, that we are not ready for elections and full democracy.  This is nonsense."
"We all have experience of living with other religions or races as one family.  It is possible. Fear divides us.  In Burma it is a manufactured fear that did not rule us before the military divided us. The atrocity of division will continue as long as Burma's current regime remains in power," said King Zero.
What can we do?
In Washington DC, the office of US Senate Majority Leader Mitch McConnell quickly responded to Ashin Issariya's request for a meeting. Sayadaw, his purple robes flowing in a warm breeze, appeared for the meeting at the U.S. Capitol building.
Senator McConnell, a long-time supporter and personal friend of Aung San Suu Kyi, effectively controls legislation related to Myanmar.
Ashin Issariya shared his ideas for "Loka Pala," a Pali phrase that symbolizes "universal protection." Loka Pala
would include delivery of humanitarian aid to all displaced communities, cessation of arrests for free speech, constitutional reform, and new programs for health, education and economic development.
Ashin Issariya also met with the National Endowment for Democracy to discuss support for a civics education program in Burma. Issariya believes Buddhist monks and other civil society organizations can help strengthen popular support for democracy in advance of the 2020 national elections.
King Zero returned to Burma on May 31 into the center of an intense and many-faceted struggle. He will be reminding everyone that the one point where all Dharmas meet is a point of love and compassion for all beings.
Click here to read the Venerable Ashin Issariya's dharma teaching mentioned in this article.
Larry Steele practices with the Seattle Shambhala Center. A retired history teacher and international business traveler, he was encouraged by Shambhala's 2017 letter of concern to the Myanmar Buddhist council to visit Ashin Issariya at his monastery in Burma. He traveled with Ashin during his recent USA tour.
Post Tags:
buddhist
,
burma
,
humanitarian
,
larry steele
,
Myanmar
,
Rohingya
,
Society