Thursday
Community Articles
Karmê Chöling is Now Open to Residency
By Mike de Give
You may have heard that Karme Choling is fundamentally changing the way it operates. For a long time, we've served the mandala by hosting meditation retreats and other dharma programs. While we'll still offer those programs, now our primary activity will be as a residence for Shambhalians who want to move here, lean into practice and grow as part of this community.
As the head of communications at Karme Choling, I've written some pretty rosy words about this Shambhala Land Center. The forests and meadows surrounding this farmhouse truly are beautiful, and drip with the potential for awakening. The community here truly is kind and supportive. And there are teachers in the neighborhood that have helped me cut through a bit of my confusion. 
But Karme Choling is not like a woodsy fortress that protects you from suffering. You'll work with your mind. When you move here, you bring the pain of the world with you. When you sit, you sit with the pain of racial injustice, with your complicity in climate chaos, and with the ugly, deep-rooted divisions in our culture. And when you talk to your meditation instructor about your struggles with all that, it's through a video screen, or maybe on the porch, with masks, six feet apart. 
There are also moments of stunning beauty and recognition. For me, these usually happen outside the shrine room, perhaps in the Upper Meadow, in the Retreats Area, or while sitting on the porch watching chipmunks play. But those moments might go unnoticed without the daily practice of meditation, and occasionally resting my mind in shamatha. I wouldn't practice nearly as much if I didn't live at Karme Choling. If you want to practice more, and more deeply, this place will certainly give you the opportunity.
If you are moving here, I think it's a good idea to bring plans and a concise, well-thought out agenda, because the dralas love a good laugh now and then. There are dynamics to this place that are hard to see on the spot, but they involve the land, an invisible energy, living in the friction and love of community, and your time spent on the cushion.
I asked my friend and housemate, Donna Williams, about this interplay of meditation and community, and what  she thinks Karme Choling should become with this new direction. Considering her answer, I don't think I framed the question quite right.
"We won't need a lot of people saying this is what's going to happen here. It will arise from our basic goodness, and our intelligence, and our sensitivity to the environment. We don't have to come at it with a lot of preconceptions. We just need to be open to how it's going to unfold. And I think it'll be beautiful."
Donna, who is a shastri and who first lived at Karme Choling from 1980 to 1983, said whatever Karme Choling becomes as a result of this new direction will be influenced by community ambience.
"Practice isn't everything" she said. "We practice so we can develop awareness, and it's not going to do anything for you unless it helps you become aware of your own issues and the world and everything else. It's an aid — it's not the end."
I have another housemate, Marian English, who is the director of Practice, Education and Programs here. Recently, she pulled together a Shambhala Guide Training for the residents that, for me, really revealed that I knew more about meditation than I thought I did. It's part of her job to support the practice of residence with programs and study opportunities.
In her view, the land itself plays a big role in supporting the practice of residents.
"You feel it as soon as you drive down that driveway. The land is just drenched in blessings and drala," Marian said. "Trungpa Rinpoche planted the seeds of dharma in the West right here, Karmê Chöling, 50 years ago, and even before that, the land itself was blessed by the Abenaki Indians who worked here and tilled the land anciently. The land is very well processed. Even those who have nothing to do with Shambhala, who just come in to make deliveries, sort of feel that. Karme Choling definitely nurtures practice."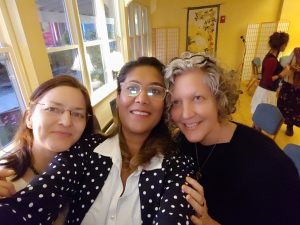 When I applied for a job here three years and three months ago, I think I wrote down that I wanted to live at Karme Choling to "deepen my practice." I'm not sure that's the reason anymore. I think the main draw is the third jewel, the precious sangha, the lovely sangha, the irritating sangha. And the garden. And the land. I'm here for a chance to test the potential of this precious place, find my voice, to bounce off others and to discover kinder ways of living in a painful world. 
But maybe all that actually is "deepening my practice." I think, maybe, that practice isn't what I thought it was. It's actually still a question for me. And I'm finding that Karme Choling is a perfect place to live in the question.
Learn more about Residency at Karme Choling by reading up on it here, by watching videos here and here and here, or by writing Nathan Railla at [email protected].
---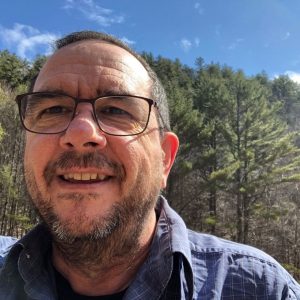 Mike de Give is the head of communications at Karme Choling. He was once a journalist, and hopes to write something funny and brilliant and significant one day, with a payday attached, and wonders if his mostly setting-sun outlook will be a problem in that regard. He is staunchly butter-side up.
Post Tags:
buddhism
,
community
,
Enlightened Society
,
Karme Choling
,
land center
,
move
,
residency
,
shambhala